For more information
or to Book a Trip call!
(505) 629-5688
or
(505) 927-5356

If you don't get us, please leave a message. We are probably out fishing and will call you back.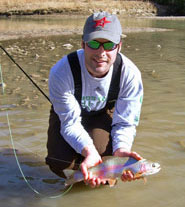 New Mexico Fly Fishing FAQs
Some commonly asked questions and answers about fly fishing in New Mexico and our guided fly fishing trips. Please don't hesitate to contact us if you need more information.
Click on any question to view answer. Click again to hide it.