For more information
or to Book a Trip call:
(505) 629-5688

If you don't get us, please leave a message. We are probably out fishing and will call you back.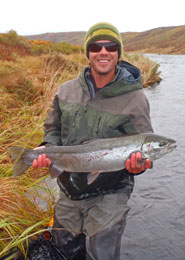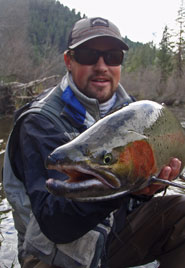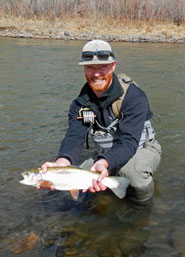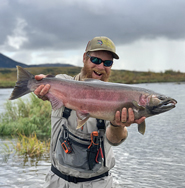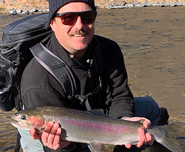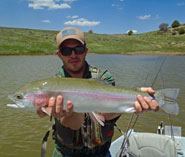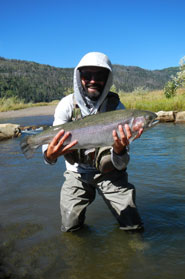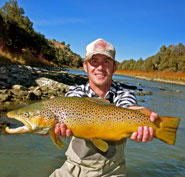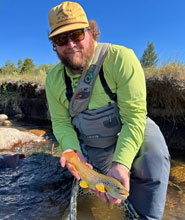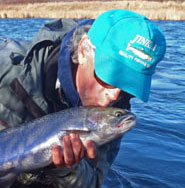 Fly Fishing Guides for Northern New Mexico & Southern Colorado
Fishing is in our blood - Fly fishing is our passion!
Every one of our guides has spent many, many years fishing and guiding anglers on all of the best waters in northern New Mexico and southern Colorado. They will be honest with you about current water and weather conditions and always strive to take you to an area where you will have the optimum chances of catching fish. If you have any particular type of fly fishing you want to do (i.e. nymphing vs. dry flies) or type of water you are most interested in fishing on, our guides will do their best to bring you to a spot that will accommodate your wishes. As well, if you have any specific fly fishing skills or techniques that you would like to learn about or perfect, our guides are more than willing to work on these with you, on your fishing trip. First and foremost, our guides believe that fly fishing is all about having fun and enjoying yourself on a beautiful stream, river or lake - they will always do their best to make this happen.
Shane Parker-Kast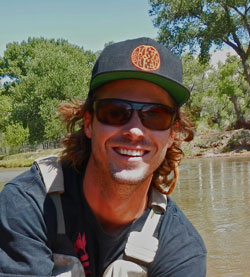 Shane has been involved with fishing his whole life. When he was 2 weeks old he went out for his first boat ride on his father's (Noah Parker) lobster boat. As soon as he could handle a rod he was fishing for just about anything that swam. At about age ten, he started fishing streams and ponds with a fly rod and hasn't stopped fly fishing since. Shane has fished for trout and bass in New England as well as fishing in Canada for Atlantic salmon on Anticosti Island and the world famous Miramachi River. A six month stay in Ireland enabled him to fish many of the great streams of County Clare. Since moving to Northern New Mexico in 2004, Shane has fished all over the West - in Arizona, Colorado, Wyoming, Montana and, most of all, here in New Mexico. He has been guiding since 2006 on many of the public and private waters in our area. For the last few years in the late fall and winter seasons, Shane has be guiding and fishing for steelhead in Alaska, Washington, Oregon and Northern California. Everyone that fishes with him finds they have made a new friend. Shane's natural skill as a fisherman and teacher coupled with his consistent good humor make him a great person to go fishing with.
Jesse Lee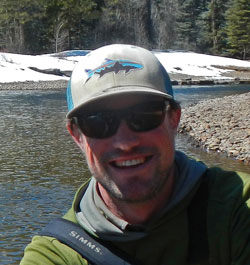 Jesse has always had a love for the outdoors and a passion for sharing it with others. A native of Santa Fe, he grew up hiking, skiing, rafting, rock climbing and fly fishing in the Sangre de Cristo and Jemez Mountains. Jesse has been a fishing guide for over 9 years and, before coming to Land of Enchantment Guides, he was the manager of a local fly shop. Jesse has taught fly fishing classes on everything from entomology to fly casting and fly tying. He is also popular with young anglers and has taught fishing basics to kids at the Santa Fe School for the Arts & Sciences and the Children's Adventure Company. An avid traveler, Jesse has fished in Wyoming, Colorado, Montana, Idaho, Oregon, California, Louisiana, Mexico, Belize, and Honduras. Along with fishing for trout here in New Mexico, he is always chasing the most elusive of fish species. Jesse has honed his ability to catch everything from Rio Grande northern pike, Ascension Bay tarpon and East Cape roosterfish on the fly rod. He also loves to tie flies and has hosted fly tying night at Marble Brewery for the past couple of winters (ask to see his fly boxes - you'll be amazed!). When not fishing or guiding, Jesse can be found spending time outside with his wife and family. He is a patient and enthusiastic teacher, who thoroughly enjoys sharing the art of fly fishing with others. Jesse's genuine character and love for people make a fly fishing trip with him one to be remembered for a lifetime.
Aaron Dunkin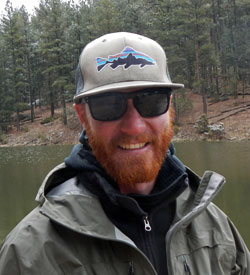 Aaron is a fanatic about anything involving nature and the outdoors. A native son of Santa Fe, he grew up exploring the rivers, lakes and streams of northern New Mexico and southern Colorado. At a young age it became apparent that he was an adventurous, outdoors type who much preferred the wildness of the land to the confines of a classroom. Daydreaming of fishing and disappearing into the solitude of the mountains, Aaron admits that he often missed entire classes at school. At an early age, his parents recognized Aaron's love of the outdoors and strongly encouraged him to pursue them to the fullest. Both his father and grandfather were avid anglers and taught Aaron how to fish on the headwaters of the Rio Grande in the southern San Juan mountains of Colorado and on the Pecos River in the mountains east of Santa Fe. At the age of seven his father gave Aaron his first fly rod which started him fly fishing; needless to say he loved it. Since his late teens he has become totally immersed in the art/sport of fly fishing and has fished all over the western United States and in Ecuador and Bolivia. As a steward of the rivers and a fishing guide, Aaron especially enjoys introducing new comers to fly fishing and an "outdoors life style" - not only teaching people how to fish, but the importance of connecting with the water and its surroundings. Aaron can best be described as a laid back guy who enjoys a good laugh and is always willing to go out of his way to make others feel relaxed and comfortable on the water. Whether with a novice or a pro, he is always willing to teach and share his extensive knowledge of the techniques that work the best in our area.
Matt Sadler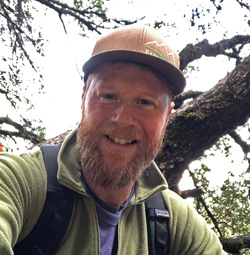 Matt spent much of his childhood free time catching crawfish, tadpoles, turtles, lizards, salamanders and anything else that happened to be slower than he was; so catching bass and bluegills on a popping bug in the ponds around town just made sense to him. There was an old fly rod in his parent's garage - no self respecting teenager still troubled himself with tadpoles and crawfish, so off he went and his fly fishing life began. There are many types of fish in the mountain streams and coastal estuaries of North Carolina where Matt grew up but fly fisherman are curious folks; Matt is no exception. He spends most of his free time now chasing tarpon, bonefish, salmon, trout and any other fish that will eat a fly in places like the Florida Keys, Andros, Alaska and here in northern New Mexico and southern Colorado. Matt has guided the past few seasons in Bristol Bay, AK and fly fishing the rivers and lakes in the Wood-Tikchik Wilderness. He is a casting and fly tying teacher as well as being an outdoor leadership instructor. Matt brings his passion for fly fishing along with a unique set of skills and experiences on all the trips he does. His enthusiasm for people and fishing abounds and will be apparent the minute you meet him. If you enjoy good company, beautiful places and catching trout on a fly, Matt is a great guy to spend a day on the water with.
Antonio Gallegos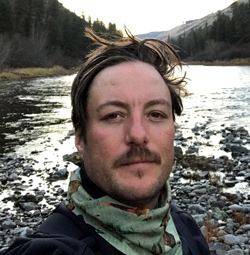 Antonio is a Santa Fe native, who has been in love with fishing since his mom and dad took him to the Pecos River when he was 6 years old. His parents instilled in him a great appreciation and respect for nature, which he is still passionate about to this day. Currently, when he isn't guiding folks fly fishing, he spends most of his free time outside "in nature". Along with fly fishing, he can often be found camping, snowboarding, hiking or foraging for edible mushrooms. Antonio's favorite time of year is fall, when he takes an annual trip to Oregon, fishing for steelhead on the fly. Family, fly fishing, food, and travel are the foundation of Antonio's life and fly fishing is always part of the agenda when traveling. Here in the US, he has fished throughout the west and internationally, fly fishing in Ireland, Mexico, Cuba and Spain are some of his fondest memories. Guiding clients on the waters in northern New Mexico and southern Colorado has become Antonio's passion. His patient and easygoing demeanor will give you the comfort and confidence needed to have an amazing day on the water. Antonio loves sharing his knowledge, experience and skills he has garnered from his many years of fishing in our area. As well as teaching a wide variety of fly fishing methods and techniques to catch fish, Antonio will ensure you have fun, have a great lunch and, hopefully, find a moment of peace and tranquility in this busy life.
Clay Wallis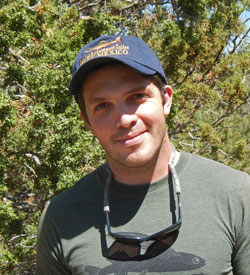 Clay Wallis is a 5th generation New Mexican who grew up exploring the mountains and deserts of the Southwest. He first learned the art of fly fishing and fly tying as a youth while in the Boy Scouts. At an early age he acquired a great appreciation for nature and a deep respect for the wild country of our area and its rich history. As Clay grew older, he became an instructor and Assistant Scout Master for his local scout troop - he has a great passion for sharing his experience and knowledge of fly fishing and the outdoors, especially with young people. Clay has spent the better part of his life fishing the streams, rivers, and alpine lakes of northern New Mexico and southern Colorado, pursuing the beautiful trout that inhabit these wild areas. While fly fishing is his first love, Clay is also an avid outdoorsman who also enjoys mountain biking, white water rafting, rock climbing, hunting, camping and backpacking. His enthusiasm for fly fishing is infectious and he feels privileged to share his love of the outdoor life with others. Interspersed with anecdotes and a dry sense of humor, a day spent fishing with Clay is always enjoyable and easy going. When he's not guiding or fly fishing on his own, Clay works as a firefighter and an EMT with the Santa Fe County fire department.
Joey Hart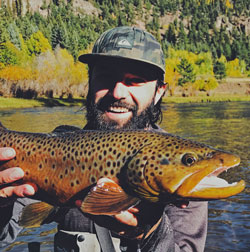 Joey loves fly fishing. Born and raised in Santa Fe, as a child he was introduced to the fly rod by his uncle, who taught him how to catch and release trout in the small, high altitude streams of New Mexico's mountains. Taking off from theses early childhood beginnings, Joey has fished for trout all over the western United States. Joey has fished the waters of Colorado, Arizona, Utah and California but his heart still lies in the lakes and rivers of northern New Mexico and southern Colorado, with his favorite spots being the San Juan and Conejos rivers. Whether fishing for small, high mountain cutthroats or big brown and rainbow trout; Joey enjoys all of it. When not fishing, he is an avid photographer and skier which means Joey spends all four seasons in the mountains. Fly fishing and guiding has enabled him interact with and relate to the environment while sharing his passion for fishing with people met along the way. He has mastered the specific techniques that catch trout throughout our region and is always willing to share these skills with fellow anglers. Joey is a fun person to be with and his overall enthusiasm for fly fishing is contagious - the smile on his face when someone catches a fish says it all!
Wade Lee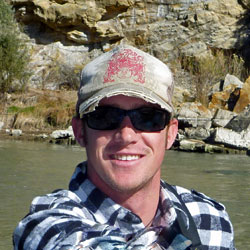 Wade is an avid outdoorsman who grew up getting "rad" in the mountains and rivers of Northern New Mexico. At a very early age his parents instilled in him an appreciation for the outdoors that has shaped who he is today. He and his brothers grew up hiking, fishing, rock climbing, kayaking, skiing, and camping in the Sangre de Cristo Mountains outside of Santa Fe. Wade studied environmental science at the University of Southern Oregon where he earned his bachelor of science and deepened his love for the outdoors through working as a park ranger at Crater Lake. Having fished from New Zealand and Mexico to Montana, his favorite fish to catch are the native Cutthroat trout that reside in the clear, cold water of the Rocky Mountains. In the winter, Wade can be found ripping up the champagne powder of the southern Rockies and in the summer he is constantly on the water, whether fly fishing or white water rafting. When he is not guiding, he takes kids on adventures at an outdoor adventure camp, where he tries to foster the same sense of stewardship and love for the outdoors in today's youth that his parents instilled in him. Above all, Wade lives to have fun and that is exactly what you will get if you have him as a guide. His enthusiasm level is always high and his love for fly fishing is both obvious and infectious. He loves being able to share his extensive knowledge and passion with all anglers, from first timers to pros.
Cody McKeever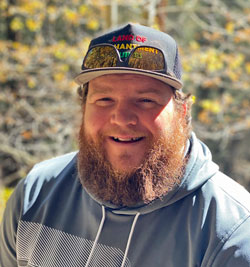 Cody is the Manager of Land of Enchantment Guides and The Fly Fishing Outpost. Born and raised on a ranch in the hill country of Texas, he spent almost all of his free time outdoors. His parents instilled a deep passion for conservation and a respect for nature at a very young age. With the San Gabriel River flowing through most of his family's ranch, he spent most of his youth exploring everything that the river had to offer. Cody's obsession with the river quickly evolved into wanting to catch anything that would eat a fly. While bass, bluegill and carp are always fun, his true passion lies with chasing toothy fish with a fly rod. Next time you're in the shop, just look for the guy with the gar tattoo. After completing college at Tarleton State University, he went to work for Orvis teaching fly tying and fly casting classes. Cody has fished all over Texas, New Mexico, Colorado, Montana, Louisiana and Arkansas, but he specifically loves finding big cutthroat in the backcountry. Multiple years of camping and fishing trips to northern New Mexico finally resulted in his relocation to Santa Fe full time. Now a New Mexico resident, Cody's obsession with predatory warm water fish has turned into an obsession with big trout and pike. You can find him exploring the area rivers and lakes in his free time, typically with a streamer rod in hand. Cody is in the fly shop full time to ensure that every customer who walks in the door leaves with the knowledge that they need to be successful.
Noah Parker
Noah started fishing at very early age with his father on many of the classic trout streams in the Catskills and New England. During his youth he often fished with family friends Ernie Schwiebert and Arnold Gingrich, both of whom inspired his love of fly fishing. At about ten years old, Noah also started tying flies and selling them to make extra money. A great influence on his early fly tying endeavors were Harry and Elsie Darby who encouraged and helped him to learn the craft. In his early twenties, Noah's love of the water and all things involving fishing led him to a career as a commercial fisherman. Working off the coast of New England, he ran his own boats fishing for lobster, cod and bluefin tuna (see the picture to the left of Shane & Noah). After over twenty years on the ocean, he has gone back, full time, to his first love of fly fishing and fly-tying. Noah moved with his family to northern New Mexico in 2004, where he has been fishing and guiding ever since.
When guiding, he brings along his lifelong experience in all types of fishing as well as his great enjoyment of fly fishing. First and foremost, he thinks fishing should be relaxing and fun - this is what you will be guaranteed to have on a guided trip with him.