For more information
or to Book a Trip call:
(505) 629-5688

If you don't get us, please leave a message. We are probably out fishing and will call you back.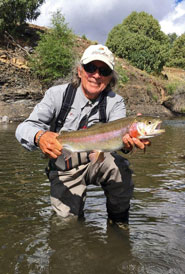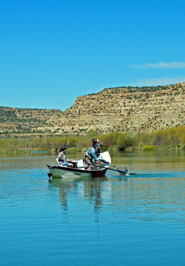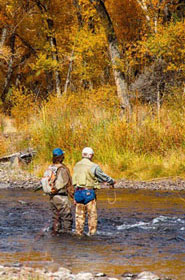 New Mexico Fly Fishing Packages, Destinations and Fly Fishing Vacations
All-inclusive fly fishing packages
at the very best fishing destinations throughout northern New Mexico and southern Colorado.
Land of Enchantment Guides has partnered with a few select lodges,
private ranches
and hotels to offer you the option making one booking to cover your whole fly fishing trip and stay in the area. These packages are the easiest and most economical way to arrange a fishing trip and great accommodations here in Northern New Mexico. Below are the fly fishing packages that we are currently offering. Please feel free to
contact us
for information and the specific details of each one.
Note: We will do our best to customize any of our packages to suit any specific requirements you may have (i.e. number of days, fishing locations, dietary concerns, etc.) ~ please don't hesitate to ask.
The Quinlan Ranch
The Quinlan Ranch is perfectly situated to be a fly fisherman's "home base" for a multi-day fishing trip in Northern New Mexico and Southern Colorado. Located just outside of the town of Chama, it places you within a short drive to the Rio Chama, the Brazos, the Los Pinos, the Conejos and the San Juan. This large ranch (over 17,000 acres) also offers six private lakes and ponds that are full of nice sized trout, surrounded by stunning scenery and landscapes. The accommodations at the Quinlan Ranch are spacious and clean, befitting a fine western fishing and hunting lodge such as this. The newly renovated Garcia cabin features 11 large bedrooms, each with a private bath, that provide all the comfort and convenience you will need after a long day of fishing. The grand room is elegantly comfortable encircled by large picture windows with spectacular views. The river rock fireplace with roaring fire turns the room into a warm refuge on cool rocky mountain nights. A gaming table and a large screen television round out this great social area of the cabin. All of the western-gourmet meals are prepared by the ranch's in house chef and are served in the spacious dining room. Wireless internet service is available throughout the cabin. This a great location for either small or large groups. If some in your group are interested in other activities, there are many other things one can do in the Chama area. There are multiple locations and opportunities for hiking, horseback riding, birding and mountain biking - both on and off the Quinlan Ranch. As well, there is Cumbres & Toltec scenic railroad that departs out of the town of Chama and runs up over La Manga pass to Antonito, Colorado - an incredible ride. Pagosa Springs is about a 45 minute drive away and offers world famous hot springs and spas along with a championship 27 hole golf course.
We offer three different "all-inclusive" fishing packages at the Quinlan Ranch. Check out the write-ups below for more information, a detailed description, pictures and pricing. To view, please click on the links (PDF files):
2022 Quinlan Ranch Package - 2 Days & 3 Nights
2022 Quinlan Ranch Package - 3 Days & 4 Nights
2022 Quinlan Ranch Package - 4 Days & 5 Nights
&nbsp&nbsp&nbsp&nbsp
&nbsp&nbsp&nbsp&nbsp