For more information
or to Book a Trip call:
(505) 629-5688

If you don't get us, please leave a message. We are probably out fishing and will call you back.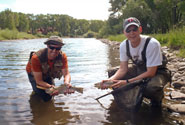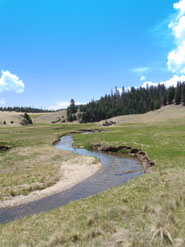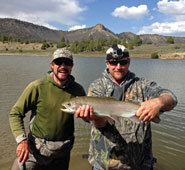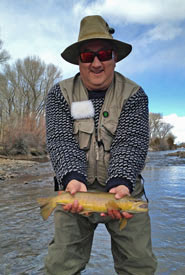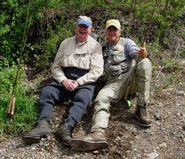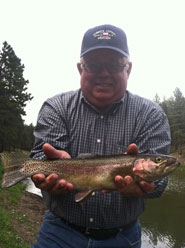 Group and Corporate Fly Fishing Trips in New Mexico & Southern Colorado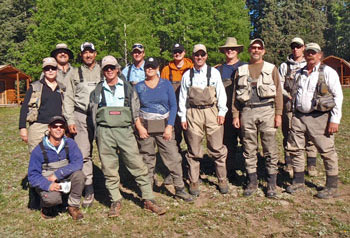 Group and corporate fly fishing trips are completely customizable to suit your particular needs.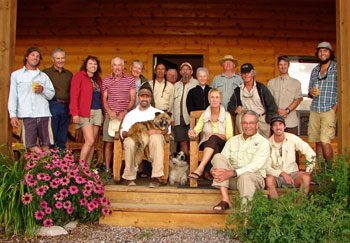 Land of Enchantment Guides can help you set up a special one day outing or an extended, multi-day fishing trip for your group.
If you are considering an overnight or multi-day trip for your group, we can arrange an all inclusive
fly fishing package
where everything will be covered. Usually our clients will stay at one of the
private ranches
that we have arrangements with. As far as dining goes, at most ranches meals will be provided their in-house chefs. Another possibility for your meals is to use our own gourmet chef, who often works with us on our multi-day trips. If a lodging location does not have an in-house chef, this provides an option for your group to have a wonderful breakfast, lunch and dinner prepared for you every day. As with all of our trips, all fishing gear and transportation can be provided for everyone in your group.
Most of our corporate trips are based out of Santa Fe, which is a very "group friendly" city with terrific hotels, restaurants and things to do (check out our
Food & Lodging
page). Though we do not cover any meals or accommodations before or after a trip, we will do our best to help you arrange for a setting in Santa Fe that meets your requirements.
Group Trips at the Bar X Bar Ranch
The Bar X Bar Ranch offers anglers a wild and private fishing location at the southern tip of the Rockies, within less than an hour drive from the plaza in Santa Fe. Located east of the city surrounded by the Santa Fe National Forest, this 5,000 acre private ranch has incredible fishing in a beautiful high alpine setting, with lots of wildlife to be seen as an added bonus. There are five lakes situated throughout the length of the 600 acre Manzanares Valley. The lakes are full of large, hungry trout that are easy to catch. Because these lakes are in the valley's meadows, both the fishing and access is easy, making the Bar X Bar Ranch a great destination for both novice and skilled anglers. This is the perfect spot for a group to get out into wild and rural New Mexico without having to drive off the end of the map. A fly fishing trip at the Bar X Bar ranch with Land of Enchantment Guides - what a wonderful way to relax, have some fun and catch some beautiful trout! Check out the printout below for more information and pricing. Please click on the link below to view (PDF file):
Group Trips at the Bar X Bar Ranch ~ 2023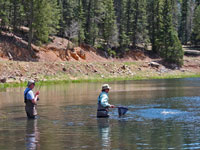 &nbsp&nbsp&nbsp&nbsp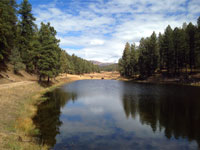 &nbsp&nbsp&nbsp&nbsp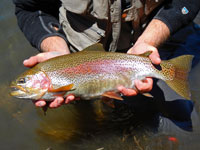 How can your business benefit from going on a guided fly fishing trip?
A fly fishing trip, either for a day or for a more extend period of time, is a great way to strengthen and promote long-lasting relationships between clients, colleagues and/or employees.
A day of fly fishing can provide relief from meetings in a beautiful, stress free setting.
Everyone can participate in fly fishing, no matter if they are novices or experienced anglers.
Often spending a day fly fishing with a client can help to close a deal.
Some people don't like to play golf (really, it's true).
We fish in gorgeous, wild country. When people are in inspiring surroundings, they begin to relax and think differently.
Many corporations have learned that a great way to build team spirit is to do something together, away from the workplace, which is completely "out of the box", so to speak.
Fly fishing is not competitive and it's fun! After a day on the river, issues that seemed massive tend to shrink in size and become more manageable.
In almost 100% of the cases, the cost of a corporate fly fishing trip can be totally written off as a business expense.