For more information
or to Book a Trip call:
(505) 629-5688

If you don't get us, please leave a message. We are probably out fishing and will call you back.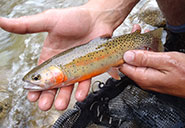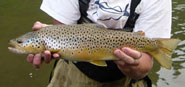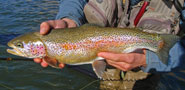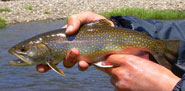 Northern New Mexico and Southern Colorado Trout Species
There are four main species of trout to be caught while fly fishing in Northern New Mexico and Southern Colorado's rivers and streams.
Not all species are found in every area. If you check the descriptions of the spots listed on the
Rivers & Streams
page, you can get a good idea of what species of trout are found in the various waters we fish on. In most of the waters we go to, you will be able to catch more than one type of trout during a typical fishing day. If you go to the correct spot and you are very lucky, there is the chance of catching three or possibly all four of the main species of trout we have here in Northern New Mexico.
Rio Grande Cutthroat (Oncorhynchus Clarki Virginalis)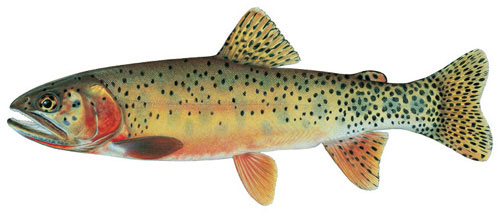 The Rio Grande cutthroat trout is one of two native species of trout found in New Mexico (The other native New Mexico trout specie we have is the Gila Trout which is only found in southern part of the state). Genetically pure populations of this rare native trout still exist in several streams in northern New Mexico. Hybridization with introduced rainbow trout in the wild has created a new sub-species known as a cuttbow. This interbreeding has severely impacted most wild populations of the Rio Grande cutthroat. Presently, most populations of pure strains are restricted to small isolated headwater streams. The New Mexico Department of Game and Fish, with assistance from Trout Unlimited and New Mexico Trout, is actively reclaiming streams and restocking them with Rio Grande cutthroats. These trout are one of the most colorful trout you can catch. They are also tough fighters for their size. If you hook into a larger one, you'll have quite a tussle on your hands.
Brown Trout (Salmo Trutta)

Browns are found in most streams in New Mexico. In larger rivers such as the Rio Chama, Rio Grande and San Juan they can reach lengths of well over 20 inches. In smaller streams, where they can be very abundant, brown trout of less than 16 inches are more the norm. When the stoneflies are hatching, every good pool on most New Mexico streams and rivers can produce a strike, a miss, or a catch of a brown trout. During this hatch, these fish may gain half or more of their weight for the year. Once browns reach about 14 inches, in order to gain more size, they usually change their feeding habitats by adding minnows and other small fish to their diet. When they get really large, they are known to eat mice and small birds! Browns are perhaps the wiliest of all fish in the trout family. They often will not give an angler a second chance if they are hooked and missed. This just means it is time to try for another one - there are plenty more fish in the river!
Rainbow Trout (Oncorhynchus Mykiss)

Rainbows tend to be a bit easier to catch than browns and they don't seem to be quite as picky or selective when it comes to the type of fly one uses. Occasionally when hooked, they will jump, putting on quite an aerial display. They often seem to prefer a bit faster, more oxygenated water than browns. For a variety of reasons, rainbow trout do not reproduce well in most streams in New Mexico. However, if they hybridize with native cutthroat trout, they can become very abundant in a stream. Stocking provides many of the rainbows in most of our streams and rivers. After a stocked rainbow has been in the wild for a year or so, they get the classic bright silver, pink and green coloring of their native cousins and it becomes almost impossible to tell them apart. In our larger waters, they will grow big and chunky. With a bit of luck, a fly fisherman can catch some gorgeous rainbows 18 to 24 inch size range.
Brook Trout (Salvelinus Fontinalis)

Brook trout are an amazingly beautiful fish with a dark body that is covered with white, yellow and red spots often circled with a blue ring. Their underbody fins are often bright orange with black and white stripes on the leading edges. They tend to be aggressive feeders and it is not uncommon to have more than one brookie charge a dry fly at once. Brook trout can be found in unbelievable numbers in some streams in New Mexico. Like browns in small streams, they usually do not get to trophy size. However, fly fishermen are often in awe at the beauty of a completely wild, 14 inch brook trout that has never seen a fly before. In most streams where they are found, they have completely replaced the native cutthroats.
Note: The Rio Grande Cutthroat at the top of the page is copyrighted by Joseph R. Tomelleri.