For more information
or to Book a Trip call:
(505) 629-5688

If you don't get us, please leave a message. We are probably out fishing and will call you back.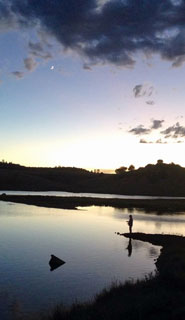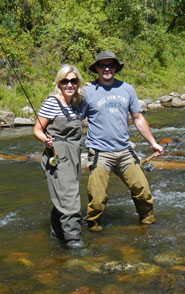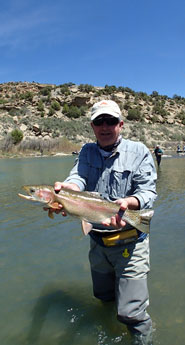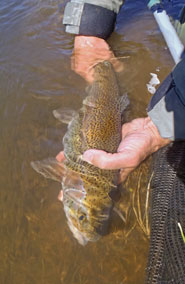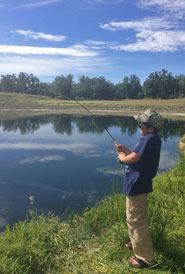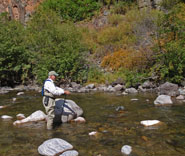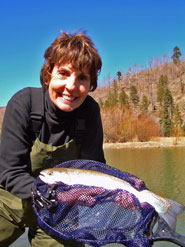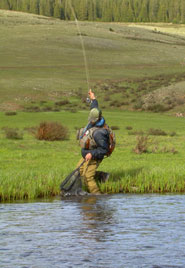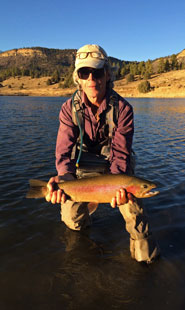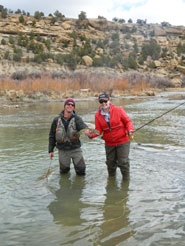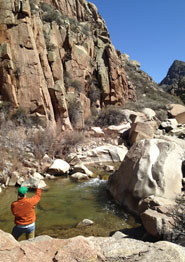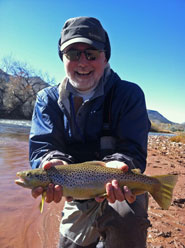 Food and Lodging for Fly Fishermen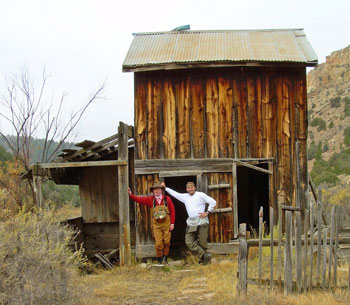 A good meal and a nice place to stay is the best way to cap off a day of fly fishing in northern New Mexico or Southern Colorado.
Here are some restaurants, hotels and bed & breakfasts in the area that we think are very good. Hopefully they will give you a starting point if you are looking for places to eat out and/or to stay at while you are fishing in New Mexico or Southern Colorado. If you are interested in a trip where everything is included (guided fishing, food & lodging), we encourage you to take a look at our
Fishing Packages
page.
Santa Fe
Food:
Andiamo
: 332 Garfield Street • (505) 995-9595
www.andiamoonline.com
Pranzo Italian Grill
: 540 Montezuma Ave. • (505) 984-2645
www.pranzosantafe.com
The Shed
: 113 East Palace Ave. • (505) 982-9030
www.sfshed.com
Café Pasqual's
: 121 Don Gaspar Ave. • (505) 983-9340
www.pasquals.com
Geronimo
: 724 Canyon Road • (505) 982-1500
www.geronimorestaurant.com
Harry's Road House
: 96 Old Las Vegas Hwy. • (505) 989-4629
www.harrysroadhousesantafe.com
Lodging:
Eldorado Hotel & Spa
: 309 West San Francisco Street • (800) 955-4455
www.eldoradohotel.com
Note: If you are thinking about staying at the Eldorado, there is a guided fly fishing and lodging package we offer with the hotel. This package will get you their best possible room rate, along with some great extras. Check out the
Fishing Packages
page for more information.
Four Seasons Resort ~ Rancho Encantado:
198 State Road 592 • (505) 946-5700
www.fourseasons.com/santafe
Inn of the Anasazi
: 113 Washington Ave • (505) 988-3030
www.innoftheanasazi.com
Sunrise Springs Spa Resort
: 242 Los Pinos Road • (877) 977-8212
www.sunrisesprings.ojospa.com
La Posada de Santa Fe
: 330 East Palace Ave. • (866) 331-7625
www.laposadadesantafe.com
Inn and Spa at Loretto
: 211 Old Santa Fe Trail • (800) 727-5531
www.innatloretto.com
The Inn of the Five Graces:
150 East De Vargas Street • (866) 992-0957
www.fivegraces.com
El Rey Inn
: 1862 Cerrillos Road • (800) 521-1349
www.elreyinnsantafe.com
La Fonda on the Plaza
: 100 East San Francisco Street • (800) 523-5002
www.lafondasantafe.com
Adobe Destinations:
PO Box 2678, Santa Fe, NM 87504 • Toll Free: 855-473-6873
www.adobedestinations.com
Note: Adobe Destinations is the oldest firm in Santa Fe specializing in exclusive short term rentals
of great Santa Fe houses. Live like a Santa Fe local with the perfect Santa Fe vacation rental from Adobe Destinations. Be a part of the history, romance and intrigue that has made Santa Fe famous!
Minimum stay of three nights or more depending on property.
Chama Area
Food & Lodging:
Quinlan Ranch
: #15637 Highway 84/64 • (505) 699-6621
www.quinlanranch.com
Note: The Quinlan Ranch is the best place to stay while fishing in Northern New Mexico. It is perfectly situated to fish the Chama, Brazos, Conejos and San Juan rivers. They have a beautiful lodge that is located on a 17,000+ acre private ranch along with 6 lakes and good sized ponds that are full of trout. All your meals are included with the lodging package. Children under 11 years old stay free of charge. For an all-inclusive fishing trip, based at the Quinlan Ranch, please have a look at our
Fishing Packages
page.
The Oso Lodge:
31 County Road 343A • (575) 756-1876
www.osolodgechama.com
Located right on the bank of the Chama River with beautiful accommodations and great views, this is one of the best B&B /Lodges in the area. Each bedroom is individually decorated, has a king size bed, satellite TV and a private bath. A full breakfast is included every morning. The Oso Lodge is a great base for your Chama area fishing trips. Minimum two night stay is required. For an all-inclusive fishing trip, based out of the Oso Lodge, please go to our
Fishing Packages
page.
Food:
The High Country Restaurant & Saloon
: 2289 South State Road 17 • (575) 756-2384
www.thehighcountrychama.com
Lodging:
Cumbres Suites Lodge
: 2042 NM Hwy. 17 • (877) 756-9139
www.cumbressuites.com
The Little Rock House on Maple
: 158 Maple Street • (575) 756-1957
www.rockhouseonmaple.info
Dancing Wolf Resort
: 534 Terrace Avenue • (855)682-4108
www.dancingwolfresort.com
Riverbend Lodge
: Highway 84/64 • (800) 288-1371
www.chamariverbendlodge.com
Branding Iron Motel
: 1511 West Main Street (Hwy. 17) • (800) 446-2650
www.brandingironmotel.com
Little Creel Resort
: 2631 South Highway 84/64 • (575) 756-2382
www.campingfriend.com/LittleCreelResort
Vista del Rio Lodge
: 2595 Highway 84/64 • (800) 939-9943
www.vistadelriolodge.com
Cooper's El Vado Ranch:
3150 State Road 112, El Vado • (575) 588-7354
www.elvado.com
Ojo Caliente & Abiquiu
Food & Lodging:
Ojo Caliente Mineral Springs Resort & Spa
: 50 Los Baños Drive, Ojo Caliente • (505) 583-2233
www.ojospa.com
Note: This is a perfect place to stay if you want to fish the Vallecitos, Rio Grande and/or the Chama rivers while still being close to Santa Fe. They have great rooms and a wonderful restaurant as well as incredible hot springs and a spa.
Casita del Lago:
Abiquiu Lake, Abiquiu • (224)600-4642
www.thecasitadellago.com
This is a beautiful vacation rental home overlooking Abiquiu Lake. Offering a state-of-art kitchen, free WIFI, two flat screen TVs, floor-to-ceiling windows, air conditioning, authentic furniture and furnishings, washer/dryer, indoor and outdoor fire places, hot tub and amazing views.
Abiquiu Inn & Cafe Abiquiu:
21120 Hwy. 84, Abiquiu • (505) 685-4378
www.abiquiuinn.com
Conejos Area (Southern Colorado)
Food & Lodging:
Indiana Jones Home B&B
: 502 Front Street, Antonito • Toll Free: (888) 686-7510 or (719) 376-5663
www.indianajoneshome.com
Note: Nice, air conditioned rooms with a great breakfast provided in the morning before you head off for a day of fly fishing.
Lodging:
1911 Steam Train Hotel
: 402 Main Street, Antonito • (719) 298-8908
steamtrainhotel.com/
RV Park and Camping Locations:
Cañon Bonito RV Park
: 6819 County Road D-5, Antonito • (719) 376-2274 or (719) 580-6268
www.canonbonitorv.com
Note: The Cañon Bonito RV Park offers both great RV sites and camping spots located on the Abeyta Ranch (check our
"Private Ranches"
page), right on the banks of the Conejos River. This is the best place to stay if you have an RV or are wanting to camp while fishing at the Abeyta Ranch or on the Conejos.
San Juan River Area ~ Navajo Dam
Food & Lodging:
Fishead's San Juan River Lodge & Backcast Cafe
: 1796 Highway 173, Navajo Dam • (505) 634-0463
www.fisheadsofthesanjuan.com
Note: The Backcast Cafe is the best place to go out to eat when you are fishing on the San Juan. They have great breakfasts, lunches and dinners with very generous portions. You won't be hungry on the river after one of their meals!
Lodging:
The Octagon Inn
: #2 Road 4275 • (505) 334-6758
www.octagoninn.com
Taos
Food:
Trading Post Café
: 4179 Hwy. 68 (4mi. south of town) • (575) 758-5089
www.tradingpostcafe.com
Doc Martin's & The Adobe Bar
: 125 Paseo del Pueblo Norte. • (575) 758-2233
www.taosinn.com
Lambert's
: 123 Bent Street • (575) 758-1009
www.lambertsoftaos.com/
Five Star Burgers
: 1032 Paseo del Pueblo Sur • (575) 758-8484
www.5starburgers.com
Lodging:
The Taos Inn
: 125 Paseo del Pueblo Norte • (888) 518-8267
www.taosinn.com
El Monte Sagrado
: 317 Kit Carson Road • (575) 758-3502
www.elmontesagrado.com/
Sagebrush Inn & Conference Center
: 1508 Paseo del Pueblo Sur • (800) 428-3626
www.sagebrushinn.com
Kachina Lodge
: 413 Paseo del Pueblo Norte • (800) 522-4462
www.kachinalodge.com/
Albuquerque
Lodging:
Hyatt Regency Tamaya Resort & Spa
: 1300 Tuyuna Trail • (505) 867-1234
www.tamaya.hyatt.com