For more information
or to Book a Trip call:
(505) 629-5688

If you don't get us, please leave a message. We are probably out fishing and will call you back.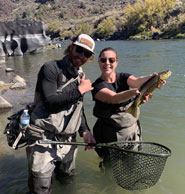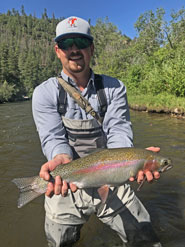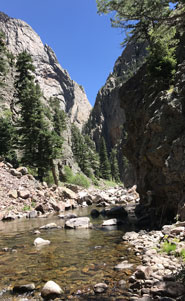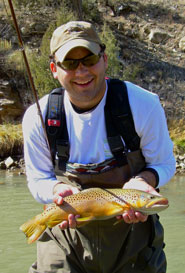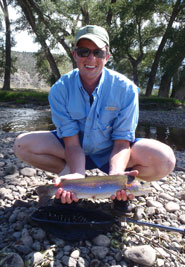 Fly Fishing Trips & Rates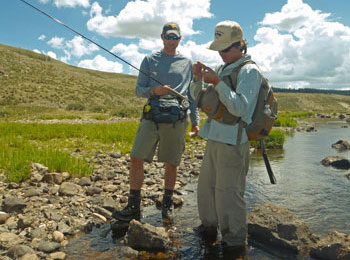 We offer a wide variety of guided fly fishing trips throughout northern New Mexico and southern Colorado. Our trips are available on every type of water from small, high mountain meadow streams to larger rivers and alpine lakes and ponds.
Day Fishing Trips
Wade trips are available on all of the rivers and streams we fish on. Float trips (fishing from a drift boat) are only available on The San Juan River, the Rio Grande and on some of our area lakes and ponds. Our day trip rates are as follows:
Wade Trips:
1 person for a full-day: $425
2 people for a full-day: $490 ($245.00 per person)
3 people for a full-day: $590 ($196.67 per person)
1 person for a half-day: $355
2 people for a half-day: $440 ($220 per person)
3 people for a half-day: $520 ($173.33 per person)
Float Trips:
1 person for a full-day: $460
2 people for a full-day: $515 ($257.50 per person)
We recommend, if your time constraints allow it, that you consider doing a full day trip. You will have much more time to relax, fish and enjoy yourself on the river, for the same amount of driving time as a half day trip.
Clients can either follow their guide to the fishing location in their own vehicles or they can ride with their guide. Full-day trips include a nice lunch, snacks and beverages. Half-day trips include some hors d'oeuvres and beverages. All fishing gear needed (rods & reels; waders; flies & tippet; etc.) is provided at
no additional cost
.
For the very best fly fishing experience, please consider having one guide for every two people going on a trip. The maximum number of people per guide is 3. Groups of more than 3 people will require an additional guide or guides.
We will be honest with you about water and weather conditions and strive to take you to an area where you will have the optimum chances of catching fish. If you have any particular technique of fly fishing you want to do (nymphing, dry flies, streamers, etc.) or type of water you are most interested in, we can almost always accommodate your wishes. Please check out our
Rivers & Streams
page for more in depth descriptions and photos of most of the rivers and streams we fish on.
Day Trips on Private Water & The Valles Caldera
For those who may want a more exclusive fishing experience, we offer guided trips on the best
private ranches
and preserves in our area. These trips often become one of a fly fisherman's most memorable experiences. Along with beauty and seclusion, private water usually offers an angler the best chances at catching and landing trophy sized fish. The private ranches and the Valles Caldera National Preserve (VCNP) charge a rod/access fee for an angler to fish on their waters. This rod/access fee will be added onto the cost of the trip.
Rod Fees for Private Water (price per angler):
VCNP: 1 person: $40 ~ 2 people: $32.50 ~ 3 people: $25
Bar X Bar Ranch (half-day): $55
Bar X Bar Ranch (full day): $85
MK Ranch: $85
Shahan Ranch: $85
High Timber Ranch: $90
Canones Creek Ranch: $100
Corkins: $110
Quinlan Ranch: $150
Overnight and Multi-day Fishing Trips
We also offer the option of going on fishing trips that are for more than one day. This is often the best way to experience fly fishing in the more remote areas we fish in. We can customize these types of trips so you can fish a group of different rivers and streams at one time. These trips usually are
all inclusive packages
that cover guiding, meals and lodging for the whole trip. Please contact us to discuss specific possibilities and details.