For more information
or to Book a Trip call:
(505) 629-5688

If you don't get us, please leave a message. We are probably out fishing and will call you back.
New Mexico Fly Fishing Report & News
Northern New Mexico and southern Colorado fishing report, current local water, weather and fishing conditions along with some general fly fishing news and trout fishing information.
Please scroll down the page to see all of the articles and videos. Good luck fishing!
NM Fishing Report ~ July 8th, 2021
At long last we are finally getting a current fishing report posted - sorry it has taken so long. Our only excuse is that the fishing has been really good and what with the relaxed NM restrictions, we have been very busy. The mayflies, caddis and hoppers are out in full force and the top-water action with dry flies and dry-dropper rigs recently has been a blast. We have also had an amazing amount of rain from Santa Fe north over the past few weeks which has been an absolute blessing for all of our rivers, streams and lakes; literally "manna from heaven". The cloudy weather has kept our area from the effects of the heat wave that has hit many other locations throughout the West and the temperatures here have been quite pleasant. Hopefully we'll keep getting some good rains during the rest of July into early August which will make for excellent water conditions throughout the rest of the summer and into the fall.
PICTURE ABOVE: Josie N. with a beautiful rainbow that fell for a gray drake dry on the Conejos River at the end of June ~ absolutely awesome!
As always, don't hesitate to contact us for up to date information, if you have any questions and/or would like to book a trip. To learn more about all of the private ranches that we take anglers to, check out our
Private Water
page.
All of the Fishing Report pictures were taken within the last 1 to 8 weeks...
Chama & Lower Brazos Rivers:
The fishing on Chama from below El Vado Dam all the way up into the headwaters in Colorado has been fishing this season. The fishing below El Vado has been very good, even when the weekend releases out of the dam have been higher. There are lots of smaller rainbows coming to the net here with a fair number of decent browns thrown in for good measure. Try fishing a heavier nymph rig under an indicator with a small, black leach as a trailer. The up-river sections above El Vado have all been fishing well, especially after a rain. The water is beginning to warm up a bit in the afternoons so your best fishing will be in the mornings, unless it is cloudy. Dry dropper set-ups have been producing lots of fish in the riffles - think about size 16 to 20 jig-head mayfly nymphs as your dropper. Also RS2s behind a Warden's Worry have been a good bet for a straight Nymphing rig. We haven't been to the section of the Chama below Abiquiu dam very much this summer; we're waiting for the fall.
The lower Brazos has been very consistent for the last month or so, producing lots of smaller rainbows and browns, using hopper-dropper rigs. We have had some good action with single dry flies in some of the slower, deeper pockets. If the fish aren't looking up, don't hesitate to try a couple of small nymphs under a mini indicator with a light split shot, fished in the riffles.
UPPER PICTURE: A nice Chama Brown below El Vado ~ Well done Jerry V.!
LOWER PICTURE: This little Brazos rainbow couldn't resist a small Chubby Chernobyl.
The Oso Piccolo Ranches:
The fishing on the La Barranca ranch has been quite good so far this summer with lots of nice fish coming to the net. As with most of the locations on the upper Chama, dry-dropper rigs have been working well, especially in the riffles. In the deeper holes, we have been switching to streamers and larger nymphs and pulling out some really nice sized browns. Because this stretch of the Chama River flows through a large meadow, the water is beginning to get a bit warm in the afternoons so, unless it is a cloudy day, it best to get an early start if possible. With the number of good sized fish we are seeing here now, the fall fishing in this spot should be epic.
Wolf creek is also fishing well and, with the decent snowfall this winter and some good rains recently, the water levels are currently in great shape. As is almost always the case every summer at this spot, small hoppers have been bringing some gorgeous wild browns to the surface throughout the whole length of this ranch's water. The wildflowers in the meadow and along the stream are more abundant and beautiful than ever and the grasses are as high and green as could be. It is absolutely gorgeous up on the Wolf Creek ranch right now. If small alpine pocket water and meadow fishing is your thing, this is the spot for you.
Comprised of two sections of water on two separate rivers, the Oso Piccolo ranches offer anglers the opportunity to fish on both of these completely different fishing locations in one day. The first ranch, known as La Barranca, has 1.5 miles of the upper Chama River and the second ranch (the Wolf Creek Ranch) has 3 miles of a gorgeous, high mountain tributary of the Chama called Wolf Creek.
UPPER PICTURE: Bill P.showing of a healthy La Barranca Ranch fish ~ Nice!
LOWER PICTURE: Not to be outdone Terry S. with another chunky Chama brown trout.
Pecos River:
Though the Pecos has been getting a lot of pressure this summer (especially on the weekends) the fishing is holding up pretty decently. We have been doing 2 or 3 trips on the river every week and there are still lots of smaller rainbows and browns (8 to 14 inchers) to be caught. There is always the chance of catching a fish or two in the 16 inch plus range, but don't hold your breath. If you are willing to work up and down the river, you can find some good water to fish and have a great day. All manner of drys and smaller nymphs are working well. Don't be afraid to strip a small streamer or wooly bugger through the deeper holes and pockets if you are trying to target a bit larger than average sized fish. We avoided the Pecos over the 4th of July weekend but have started to do a trip or two there over the last few days. Please be courteous to other anglers.
PICTURE: Our guide Matt took a June afternoon to scout some spots on the Pecos and look what he caught; on a 2 weight rod no less!
The Conejos River & Abeyta Ranch:
The Abeyta Ranch and the lower Conejos has been fishing well so far this summer. The fish are looking very healthy and we are getting into some real beauties with quite a few in the 20+ inch size range. The run-off is done and the flows are currently 250 cfs (cubic feet per second) range which is a perfect level for this river. There have been some prolific drake hatches on the Conejos over the last few weeks and we have had some great dry fly fishing using larger patterns. Trailing a dropper nymph 2+ feet below your dry fly will often be very productive as well, especially if the fish are eating emergers under the surface. This is a great time of year to fish the Conejos; the water is still high enough and cool to make the fish quite aggressive and not too spooky. We have been keeping two set-ups rigged; a dry-dropper rig for the shallow riffles and double nymph rig for the deeper pools and have been doing well on both. If you see specific risers to target, you can switch to a single dry. There have also been a fair number of salmon flies hatching so a large simulator can also be a good top-water pattern to try over the next few weeks.
PICTURE: Debbie H. with a beautiful Abeyta Ranch fish on a cloudy late June day ~ very nice!
Bar X Bar Ranch:
What an incredible season we have had so far out at the Bar X Bar. All of the lakes are fishing very well and the fish are very healthy and fat. The water levels in all of the lakes are very high for this time of year and the water temperatures are still quite cool. This bodes well for continued great fishing for the rest of the year. Every fishing method is working right now out at the Bar X Bar Ranch - streamers, nymph rigs and dry flies are all bringing many fish to the net. On calmer days the fish are definitely looking up and we have been getting quite a few top-water bites on single caddis patterns, hippy stompers, smaller hoppers and beetles. Right now anglers can basically choose any type of fishing technique they would like to try and expect good results with it. This offers a great opportunity for either seasoned anglers to hone their skills or first time fly fishers to catch fish.
Located in a high mountain valley with great scenery and just under an hour drive from the Plaza in Santa Fe, the Bar X Bar Ranch is a great place to get on the water up in the mountains with out too long of a drive. With 5 lakes that run up a 2 mile long alpine meadow, it is super-easy fishing and currently this is the best location to go to that is close to town.
UPPER PICTURE: Jody and Bill B. with a nice double on the big lake at the Bar X Bar Ranch in late May.LOWER PICTURE: Start them out young! This kid (and Dad) had a blast on the upper lake last week.
San Juan River:
We've been over on the San Juan at least a once a week for the last month or two and the fishing has been quite good in spots. As of this writing, the flows being released out of Navajo Dam have been in the 500 to 600 cfs (cubic feet per second) range which is a perfect level for both wading and fishing from a drift boat. Right now we suggest wading on the Juan. It has been quite warm over there and it sure is nice to be in the cold water staying cool - wicked hot in the drift boat these days. The water clarity has greatly improved since the spring and we are starting to do a fair amount of "sight fishing" to larger fish. Right now there is some good dry fly action to be had and not necessarily on the small stuff. Bigger foam bugs are working well and, as Ernie Schwiebert suggested, "in any color just so long as its black". During the first three weeks of July after a heavy rain, there is often an ant fall on the San Juan. When this happens the well educated trout of the San Juan abandon their normal caution and go into an ant feeding frenzy. These ants are the number one terrestrial pattern for the San Juan and with the start of ant season the fish will be looking up for them for at least another month. Along with the standard array of lava and pupa midge patterns, all manner of baetis patterns are bring fish to the net, especially on cloudy afternoons. As usual, the most productive size range will be #22, #24 and #26. Even though some days have been extremely crowded with anglers, we can usually find an area with some good room too fish, especially on wade trips.
PICTURE: A beautiful day and fish in late May on the San Juan ~ well done Ira B.
Quinlan Ranch:
The lower lakes (especially Don's) on the Quinlan are fishing incredibly well right now, both from the boats and from the shore. Similar to the lakes on the Bar X Bar Ranch, all manner of rigs are working. Streamers are bringing the biggest fish to hand but many good sized fish are being caught on nymphs and chironomids. Recently we have been seeing a good number of rising fish and we are starting to transition to fishing the occasional dry fly. As the month progresses and the water warms up a bit more, the top-water action should be best in the mornings and late afternoons, especially as the damsel flies become more prevalent.
The Quinlan is a great place to base out of to fish Northern New Mexico and Southern Colorado. Please check out the
"Fishing Packages"
page for more information.
PICTURE: A beautiful afternoon on Don's Lake last month.!
Rio Grande:
The fishing has been quite good on the Rio for the last month or so. The flows are at a very fishable level (as of this writing they are holding in the 300 to 400 cfs range) and we haven't had any really heavy water conditions to deal with. Anywhere from above Taos all the way down to Velarde has been a good bet, just look out for the crowds - better to try and avoid the more popular spots and hike a bit. As is most often the case on the Rio, a double nymph rig has been bringing many nice rainbows and browns to the net recently. Caddis patterns, copper johns, worms and warden's worries are all a good place to start. We have been seeing a few rising fish so keep your dry fly box handy.
PICTURE: A healthy brown trout from the Pilar area on the Rio. Good job landing this one Cassie!
The Shahan & MK Ranches:
These ranches on the Navajo River in southern Colorado have started to fish very well over the last few weeks. The run-off is almost finished, and the river is in the best shape we have seen in many seasons. The water on the MK ranch, which is above the diversion just below the Banded Peaks, is still quite cold which is a blessing for this time of year. The fish made it through the winter in fine form and are fat and healthy. We have had great luck with both nymph rigs (especially Warden's Worries) and single hoppers and orange stimulators on top. On the Shahan Ranch we have been fishing mostly nymph rigs with all manner of caddis patterns, but this is changing quickly as the fish have started to key into dry flies this past week. Pretty soon we'll be able to spend the whole day fishing with dry flies - we can't wait! If you are interested in fishing at either of these spots, we recommend staying in Chama, NM or Pagosa Springs, CO the night before your trip.
PICTURE: There are a few salmon flies hatching on the Navajo this year...
Valles Caldera:
For the last month or so, we have been doing a fair number of trips on the Valles Caldera National Preserve (VCNP) and the fishing has been very good. We started off in May using smaller nymphs but now with the warmer weather and summertime water levels, we are having lots of great dry fly action. Smaller size 12 to 14 foam hoppers are always a good bet. If you want to be a bit more traditional, consider tying on an elk hair caddis, an Adams or even a Royal Wulff. There also seem to be a fair number of larger fish than we have caught in years past. So far this season, we have had clients get into a few 16" fish and one that was almost 18". These are whoppers for this kind of water! As always, there are lots of smaller wild brown trout in the 8" to 14" size range.
PICTURE: Looking down on the upper San Antonio early last month.
. . . . . . . . . . . . . . . . . .
Travel Quarantine Removed and State Parks Are Now Open To All
Great news for all of our friends, clients and visitors from out of state. For the last year, anyone coming into New Mexico was supposed to self-quarantine for 14 days. As well, New Mexico State Parks were closed to everyone but New Mexico residents. Last month both of these restrictions were removed!
On February 10th Governor Michelle Lujan Grisham announced that
visitors to the state will no longer be required to self-quarantine
. Now visitors are advised to self-quarantine for 14 days and suggested to obtain a Covid-19 test upon their arrival in New Mexico. As well, depending on the specific county, food and drink establishments can operate at up to 50% indoor capacity and 75% capacity for outdoor dining. Lodging establishments can operate at up to 75% if NM Safe Certified and 40% for those that are not NM Safe Certified. You can read the Governor's full executive order by clicking on the link below:
Governor Michelle Lujan Grisham's Executive Order - 2/10/21
On February 24th the Energy, Minerals and Natural Resources Department's (EMNRD) State Parks Division announced that day-use will reopen for all visitors immediately. Camping will reopen to all visitors, by reservation only, beginning February 27th. What a relief!
Non-residents can now fish in all of the New Mexico State Parks
, i.e. the quality waters on the San Juan River, the Pecos River, the Cimmaron River, etc. Check out the State Park's press release and especially their additional guidance/requirements by clicking the link below:
NM State Parks Open & Additional Guidance - 2/24/21
This a wonderful change of events that was long overdue. We as a business have been greatly hampered by all of the previous restrictions and the State Parks closures. As well we felt that these past edicts, especially the Park's closure to non-residents, were patently unfair and unrealistic. Thank god the powers that be appear to be coming to their senses. Hopefully this will make our visitors from out of state feel a bit more comfortable and welcomed when coming to New Mexico.
. . . . . . . . . . . . . . . . . .
Fly Tyer Magazine Article Profiles Shane Parker-Kast
We are very proud to announce that Shane, one of our guides, has been featured in an article in the most recent issue of Fly Tyer Magazine (Autumn, 2020). Many thanks to Fly Tyer editor David Klausmeyer who wrote the piece. You can read a printout (.pdf) of the article by clicking the link below:
Article on Shane Parker-Kast ~ Fly Tier, Guide & Artist
Fly Tyer is the best publication on the market on all types of fly tying and materials. Though primarily a magazine on all things concerning fly tying, it is an equally good source of many fishing skills and techniques. We highly recommend that you pick up a copy at your local fly shop and/or consider getting a subscription. Check out their website:
www.flytyer.com
. . . . . . . . . . . . . . . . . .
Trout Unlimited Opposes Repeal of Clean Water Rule
The final "repeal" rule leaves important drinking water sources and habitat at dire risk of being unprotected from pollution, and opens the door for the expected "replacement" rule later this year which will be even worse for streams and wetlands.
WASHINGTON D.C. — Trout Unlimited repeated its strong opposition to the final rule being announced by the Environmental Protection Agency and Army Corps of Engineers today that will rollback of protections for millions of miles of streams that provide drinking water for one-in-three Americans and critical water and habitat for fish and wildlife populations.
The final rule, which "repeals" the 2015 Clean Water Rule, making way for the anticipated "replacement" rule, takes another step toward eliminating protection for millions of stream miles and many wetlands, a critical component to functioning watersheds. The replacement rule, is expected to be finalized later in 2019 by the agencies.
The final rule announced today will undermine common sense regulation of a host of development activities, such as pipeline construction that will, over time, degrade hunting and fishing opportunities in every state in the country.
"Today's final rule, in combination with the replacement rule later in the year, could tear the soul out of the Clean Water Act's protection of small streams and wetlands," said Chris Wood, president and CEO of Trout Unlimited. "Headwater streams, especially ephemeral streams, are like the capillaries in our bodies – they're small and easy to overlook, but we wouldn't last long without them. It is a fundamentally flawed final rule."
Polls show Americans overwhelmingly support protections for clean water and the Clean Water Act.
"The Agencies' final rule turns its back on the importance of small headwater streams to healthy waterways and sportfishing recreation," said Steve Moyer, vice president of government affairs for Trout Unlimited. "Sportsmen and women know that we all live downstream. All the benefits of our larger streams, rivers, and bays are dependent on the health of our small streams."
Using the Clean Water Act to protect headwater streams is especially valuable to Trout Unlimited. At a basic level, 59 percent of rivers and stream miles in the lower 48 states are intermittent or ephemeral (i.e., they are small or headwater streams that do not flow year-round). However, in the drier southwest, that figure is higher. In Arizona, 96 percent of the waters are intermittent or ephemeral streams. EPA Region 8, consisting of Colorado, Utah, Wyoming, Montana and the Dakotas, estimates that only 17 percent of the waters in its states flow year-round.
Headwater streams contribute to the drinking water supplies of 117 million Americans, protect communities from flooding, and provide essential fish and wildlife habitat that support a robust outdoor recreation economy worth $887 billion.
"Clean water is not a political issue. It is a basic right of every American," Wood said. "To be effective, the Clean Water Act must be able to control pollution at its source — upstream in the headwaters and wetlands that flow downstream through communities to our major lakes, rivers, and bays. We will work with our allies across the conservation community to compel the agencies to reverse course on their flawed rule."
FREQUENTLY ASKED QUESTIONS:
How Did We Get Here?
When the Clean Water Act was passed in 1972, it protected virtually all of America's waters–every type of stream, wetland, river, lake or bay. A 2001 Supreme Court decision first questioned if all wetlands and streams should in fact be protected–and the issue has become ever-more politicized since then. In 2015, under President Obama, the EPA finalized a rule (the Clean Water Rule) clarifying that the Clean Water Act protects all of our nation's streams and millions of acres of wetlands. The rule gained strong support from sportsmen, scientists and the public, but it was opposed by a powerful coalition of agriculture and development interests
What's happening now?
Early in 2017, President Trump directed the EPA to first repeal and then replace the Clean Water Rule. The Administration's efforts to rescind the 2015 Rule have been partially blocked, as the 2015 Rule is in effect in 22 states. The new rule, unveiled today, is an unwarranted effort to replace the 2015 Rule. The new rule is NOT based in science and is NOT consistent with the goals of the Clean Water Act. The new rule proposal will undermine long standing protections for wetlands and small streams, it will harm hunting and fishing in America. However, it is not the final chapter to the story. We expect the Administration and the agencies to unveil a replacement for the 2015 Rule which may well be a true gutting of the Clean Water Act, leaving millions of stream miles and millions of acres of wetlands permanently unprotected. We expect the replacement final rule later this year.
Why should sportsmen care?
The Clean Water Act and the 2015 Rule are vital to TU's work and to anglers across the nation. Whether TU is working with farmers to restore small headwater streams in West Virginia, removing acidic pollution caused by abandoned mines in Pennsylvania, or protecting the world-famous salmon-producing, 14,000-jobs-sustaining watershed of Bristol Bay, Alaska, we rely on the Clean Water Act to safeguard our water quality improvements. TU members, and sportsmen and women nationwide, want to move forward with progress on cleaning up our nation's waters, not go backwards. Thus, the Clean Water Act needs to be improved, not weakened, as is the case in today's announcement.
To learn more please click on the link below. Hopefully we can stop this craziness - call your representatives and let them know how you feel.
Millions of stream miles risk losing protection...
. . . . . . . . . . . . . . . . . .
Fly Tyer Magazine Article about Land of Enchantment Guides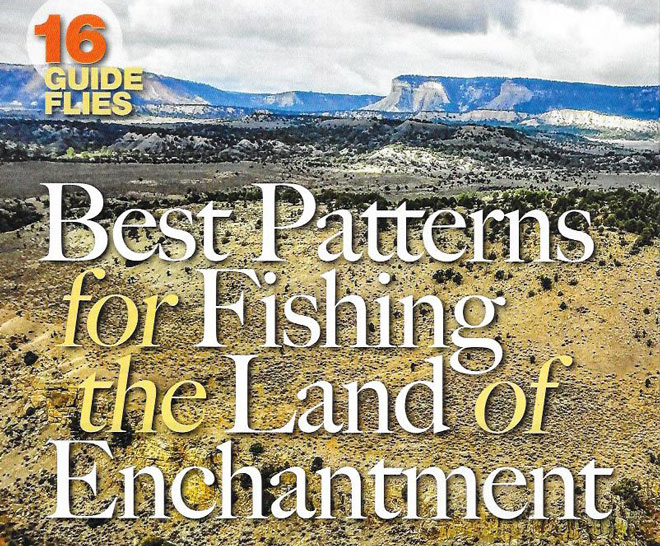 The Autumn, 2017 issue of Fly Tyer Magazine did an article on Land of Enchantment Guides featuring 16 of the custom fly patterns that Shane, Jesse and Noah tie. Many thanks to Fly Tyer editor David Klausmeyer for thinking enough of us to do the article - we are very flattered. You can read a printout (.pdf) of the article by clicking the link below:
Article on Land of Enchantment Guides
Fly Tyer is the best publication on the market on all types of fly tying and materials. Though primarily a magazine on all things concerning fly tying, it is an equally good source of many fishing skills and techniques. We highly recommend that you pick up a copy at your local fly shop and/or consider getting a subscription. Check out their website:
www.flytyer.com
. . . . . . . . . . . . . . . . . .
Hank Patterson Explains Trout Unlimited (TU)
Hank Patterson shares his understanding of Trout Unlimited and the importance of membership with a couple new clients. What hoot! Are you a TU member?