For more information
or to Book a Trip call:
(505) 629-5688

If you don't get us, please leave a message. We are probably out fishing and will call you back.
New Mexico Fly Fishing Report & News
Northern New Mexico and southern Colorado fishing report, current local water and fishing conditions along with some general fly fishing news and trout fishing information.
Please scroll down the page to see all of the articles and videos. Good luck fishing!
NM Fishing Report ~ March 4th, 2019:
Early spring is here and the fishing is starting to pick up as many of our rivers and streams are slowly starting to come out of old man winter's freeze. From temperatures well below freezing to pleasant "shirt sleeve" weather, it has been a very interesting winter and early spring here in the Land of Enchantment. The good news is that all of our mountain ranges have already received a terrific amount of snow, which has brought all of our locations up to an above average snow-pack for the year. You can find exact snow-pack amounts for our area at this website:
SNOTEL Snow/Precipitation Update Report
. After the 2017/2018 winter's very low snow amounts, this year's above average snowfalls should guarantee great water levels and conditions in all of our rivers, streams and lakes once again this spring and summer. We should have some very happy fish and great fishing this season!
As always, don't hesitate to contact us for up to date information, if you have any questions and/or would like to book a trip. To learn more about all of the private ranches that we take anglers to, check out our
Private Water
page.
All of the Fishing Report pictures were taken within the last 1 to 4 weeks...
SAN JUAN:
Nothing much has changed since out last report and the "Juan" is still fishing well right now. We have been doing a fair number of trips on the San Juan River throughout the winter and it has been really good. With the arrival of early spring the San Juan will begin to have a good blue wing olive mayfly hatch and, after a winter of eating small micro midges, the fish really put on the feed bag when these larger mayflies show up. This hatch usually continues throughout the rest of the spring. As of this writing, the flows being released out of the Navajo Dam have been holding steadily in the 300 cfs (cubic feet per second) range. This flow level has made the fishing great for both floating and wading. We are doing well fishing the deeper water from the boat and then getting out and wading in the shallower areas - the best of both worlds. Due to Navajo Reservoir having "turned over", the water clarity is still pretty low; the visibility
is about 16 to 24 inches. This means that anglers can get away with much heavier tippet than usual (4X shouldn't be an issue) and larger flies and streamers are producing lots of fish. The fish are hanging in the deeper water early in the day but as the sun gets up overhead and the water in the shallower sections warms, they are moving up into the riffles where there are some heavy midge and blue wing olive hatches. The water does seem to be getting a little bit clearer each day. Black, gray, olive, orange and red midge larva (size 22 to 28) and olive, chocolate and gray blue wing olive mayfly nymphs (size 20 to 24) have been the most productive of the smaller fly patterns. Orange, yellow and peach egg patterns (size 14) and black, olive, white and dark gray streamers and leeches (size 8 and 10) are also bringing a lot of fish to the net. This time of year the crowds are gone and you can have the river to yourself in many locations. On our last guide trip we didn't see another boat on the river for the two days we were fishing - amazing to basically have the quality waters section of San Juan River all to ourselves!
If you are interested in spending a few days on the Juan, check out our Fishing Packages. For more information and pricing please go to our
"Fishing Packages"
page or give us a call.
Upper Picture: Kent D. with a fat San Juan River Rainbow last weekend - Nice!
Lower Picture: There are many browns coming to the net these days. Good job Rick R.!
CHAMA & LOWER BRAZOS:
The fishing conditions and flows on the Chama River tailwaters have been perfect for the last couple of months. The fishing below Abiquiu Dam has been very good with lots of recently stocked and holdover rainbows and the odd good sized brown trout thrown in for good measure. The section below El Vado on the other had has been her typically fickle late winter self. We have had some really good days and then a few slow days here - this should change as the coming of spring warms the water up a bit more. Closer to both of these dams there are some really nice rainbows and, in areas that are less pressured, there is still a very good chance of hooking into a really big brown. The best rigs for both of these spots have been black or olive leeches (size 8 and 10); yellow, chartreuse, and orange egg patterns (size 14 to18) along with red, burnt orange and purple G-string worms (size 14). Another good bet are tan or cream mop flies (size14) with small, bright mayfly nymphs or midge larva as the dropper fly have been working well, especially below Abiquiu Dam. The real key has been to get the correct depth for the spot you are fishing in.
It is still a bit early for fishing on the upper part of the Chama above El Vado reservoir and on the lower stretches of the Brazos River. These locations should start to begin fishing within the next 3 to 4 weeks, especially if we get a few warm, sunny days.
Picture: Fishing below Abiquiu Dam on a beautiful mid-February day, Cole L. racked em' up!
RIO GRANDE & RED:
The Rio Grande has been pretty good at times and there is still a good chance at catching a pike. As with most of our fishing locations this time of year, warmer, sunny days will probably be the most productive. The Red river, which is a tributary of the Rio is still fishing fairly well. The trout fishing is decent and there are still a few cut-bows in the system. If you don't mind a bit of a hike, this is a great spot to try. This is also still the best time of year to try your luck at pike fishing. As with most of our fishing locations this time of year, warmer, sunny days will usually be more a bit more productive. Please feel free to give us a call for more information.
Picture: A late February afternoon on the Rio Grande near Pilar; cold but beautiful, with a few nice fish to the net.
PECOS:
The Pecos is just beginning to pick up a bit. There is still a fair amount of snow up in the higher altitude sections and in some of the canyon stretches but it is very fishable. Though the bulk of the fish aren't that big - usually in the 8 to 12 inch range, as the spring progresses, there is a chance to land some really good sized rainbows. Both rainbows and browns are hitting equally well on nymphs and small streamers - great fun!
Picture: A healthy Pecos River rainbow that chomped on a small bugger at the end of February.
ABEYTA RANCH & THE CONEJOS:
The ice on the lower Conejos River and the Abeyta Ranch is still pretty heavy but it appears as though it is getting ready to start breaking up. There is the chance for some decent fishing on warm afternoons on the lower river but you will have to cover some ground to find open areas to fish in. Barring a major cold snap, it should be really, really good by end of March/beginning of April. The fish will be aggressive and hungry after the long, cold winter.
BAR X BAR RANCH:
With the coming of ice out, fishing the lakes on the Bar X Bar Ranch can be amazing. The bigger fish will be hungry and out cruising around looking for a meal. Streamers, wet flies, nymphs and midges; will all work well. All five of the ranch's lakes will be full of water right now and there will be no weeds to contend with. This year should be one of the best early fishing seasons we have ever had out at the ranch. The Bar X Bar Ranch is a great location to fish that is close to Santa Fe; a little under an hour drive from the Plaza.
QUINLAN RANCH:
The lakes on the Quinlan Ranch are still iced over so there won't be any fishing on the ranch until "ice-out" occurs, maybe by early April. The ranch got a lot of snow this winter so the lakes should be in great shape this season.
We are already booking a fair number of our multi- day packages up at the ranch for the 2019 season. If you are considering a trip next year and are interested in specific dates, please don't wait too long to get the ball rolling on making a reservation. The Quinlan is a great place to base out of to fish Northern New Mexico and Southern Colorado. Please check out the
"Fishing Packages"
page for more information.
THE MK & SHAHAN RANCHES:
The Navajo River is still a "no-go" but should be starting to open up soon. Typically late March into early April is when we will start fishing these ranches.
Located at the upper end of the Navajo River valley upstream of Chromo, the Shahan Ranch has 2± miles of river with some terrific stream improvements and deep pools. The MK Ranch is further up upstream with about 4± miles of river. These are some of the most beautiful places we fish at with incredible views of both the Navajo and Banded Peaks. If you are considering booking a trip with us on either of the spots, we would encourage you to base out of either Chama, NM or Pagosa Springs, CO, at least for the night before your day of fishing.
THE OSO PICCOLO RANCHES:
As soon as the upper Chama River opens up the La Barranca Ranch will be worth a try. The fishing on the Wolf Creek Ranch is still at least 5 to 6 weeks away - lots of snow up there; yay! We are anticipating a terrific season at both of these spots in 2019.
Comprised of two sections of water on two separate rivers, the Oso Piccolo ranches offer anglers the opportunity to fish on both of these completely different fishing locations in one day. The first ranch, known as La Barranca, has 1.5 miles of the upper Chama River and the second ranch (the Wolf Creek Ranch) has 3 miles of a gorgeous, high mountain tributary of the Chama called Wolf Creek.
HIGH TIMBER RANCH:
This season the fishing on the High Timber Ranch on the upper Brazos River should be nothing short of epic. This winter brought the most snow we have seen in the high country for quite a few years so the rivers and creeks in these alpine meadows and canyons will be perfect this summer.
There are rainbows and brook trout throughout the whole five miles of water up at the High Timber Ranch. The rainbows, which typically run from 12" up into the 20+" range, are very fat with beautiful white tips on their lower fins. The brook trout are a bit smaller than the rainbows but we landed 2 or 3 in the 17" to 19" range in 2018 - that is a really nice sized brookie! Comprised of canyon stretches and big expansive meadows, there is almost every type of alpine fishing you could ask for. It is a long but beautiful drive to get to the ranch so we suggest that you base out of the Chama area if you are interested in fishing on the High Timber Ranch.
VALLES CALDERA NATIONAL PRESERVE:
The beginning of April will probably be the first chance to go out and fish the Valles Caldera.
Bristol Bay is Still Being Threatened. Here is a Great Way We Can All Help to Protect It:
Tens of millions of sockeye salmon swim up the rivers of Bristol Bay every year, the world's largest sockeye salmon run on Earth. The $1.5 billion salmon industry in Bristol Bay supports 14,000 jobs in commercial fishing, sport fishing, and tourism. Pebble Mine would put this industry and a way of life at risk, while destroying over 15 square miles of natural habitat - and that's only the beginning...
You can't put a price on Bristol Bay, yet there are those who seek to do just that. If Pebble Mine is built, it will forever endanger a magnificent ecosystem and one of the last great wild salmon runs in the world.
It is a case of when, not if, the damage will be done. According to the permit, the mine will pull 36 billion gallons of water from prime habitat each year and up to 11 billion tons of toxic waste will be stored behind an earthen dam at the headwaters of this watershed. The dam itself will be ten times larger than the Mount Polley Dam in British Columbia, which failed in 2014, discharging 400 tons of arsenic, 326 tons of nickel, 177 tons of lead, and 18,400 tons of copper and its compounds into the Fraser River watershed. The same engineers who built Mount Polley designed the dam proposed for Pebble.
Orvis is partnering with its customers and Trout Unlimited to preserve Alaska's Bristol Bay habitat by stopping the construction of Pebble Mine. This year Orvis is donating $40,000 in matching funds, with a goal of $80,000. Every $100 you donate will become $200.
THIS IS A GREAT WAY TO DOUBLE THE AMOUNT YOU GIVE!
Please click on the link below to make a donation - you will get some great fishing karma if you do.
ORVIS ~ Trout Unlimited Bristol Bay Matching Fund
The State of Public Access to Water in America:
Do you worry that your access to your favorite waters may be in jeopardy, or are you confused about the access laws in other states you may visit? The good folks at Backcountry Hunters & Anglers have put together a comprehensive report, "Stream Access Now," on the state of public access across the country.
What you might find most useful is the chart that lists every state's access laws, including definitions of "navigability," whether there is public floating access through private lands, streambed access through private lands, and the right to portage above high water mark.
Read up on your state's access laws, starting on page 14, and then visit
backcountryhunters.org
to learn more and support this new effort. Sign the
Stream Access Pledge
and join others who are committed to upholding our rights to access America's streams.
"All Americans should have the opportunity to enjoy our nation's great outdoors. Access to our public waters is crucial to upholding our outdoor traditions. While private property rights must be respected, I believe that everyone should be able to access our rivers and streams. The ability to hunt, fish and float these waterways should not depend on an individual's economic means or social standing. I pledge to defend our opportunities to access America's waterways and to join others in sustaining our outdoor legacy."
Click here to read the full Backcountry Hunters & Anglers Stream Access Report
Fly Tyer Magazine Article about L.O.E. Guides and the Flies We Tie: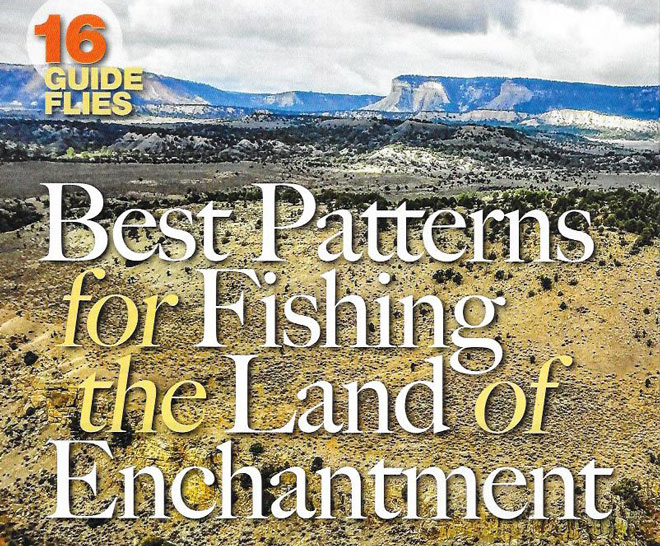 The autumn issue of Fly Tyer Magazine did an article on Land of Enchantment Guides featuring 16 of the custom fly patterns that Shane, Jesse and Noah tie. Many thanks to Fly Tyer editor David Klausmeyer for thinking enough of us to do the article - we are very flattered. You can read a printout (.pdf) of the article by clicking the link below:
Fly Tyer Article on Land of Enchantment Guides - Autumn, 2017
Fly Tyer is the best publication on the market on all types of fly tying and materials. Though primarily a magazine on all things concerning fly tying, it is an equally good source of many fishing skills and techniques. We highly recommend that you pick up a copy at your local fly shop and/or consider getting a subscription. For more information you can go to their website:
www.flytyer.com
Hank Patterson Explains Trout Unlimited (TU):
Hank Patterson shares his understanding of Trout Unlimited and the importance of membership with a couple new clients. What hoot! Are you a TU member?
Cold Waters Video:
At the end of the 2014 fishing season, five respected fly fishermen - Craig Mathews of Blue Ribbon Flies, Yvon Chouinard of Patagonia, Steve Hemkens of Orvis, Tim Romano of Angling Trade and Todd Tanner of Conservation Hawks - came together to fish for wild trout and share their thoughts on angling and climate change.
COLD WATERS was shot in Montana in October, 2014. It celebrates the joy and passion of fly fishing, and educates anglers on the threat we face from global warming. The film, which is a collaboration between Conservation Hawks and the cinematic team at Conservation Media, focuses on our responsibility to protect cold, clean waters and healthy landscapes, and to stand up for future generations of Americans.
Rio Chama Flow Optimization Project:
The Chama River needs our help. The best way that we, as individuals, can do something to help the situation on the Chama River is to become involved. On May 10th, 2011 a group called The Rio Chama Flow Optimization Project (RCFOP) was formed to address the many issues facing the river. The primary focus of the RCFOP is to band together concerned individuals and organizations and establish a collaborative effort to manage streamflow/discharges in the Chama River system. The project's primary goal is to reinvigorate natural functions of the Chama river while satisfying water management objectives and improving fishing and whitewater recreation. The RCFOP is funded by a grant from the River Ecosystem Restoration Initiative and managed by Rio Grande Restoration.
Please take some time to read the following report/article on the conditions on the Chama River this fall. On the last page you will find contact information for the Rio Chama Flow Optimization Project - please consider supporting them in whatever way you can. Click on the link below to open the report (PDF file):
Report/Article on Low Flows Below El Vado Dam - Fall & Winter, 2011/2012