For more information
or to Book a Trip call:
(505) 629-5688

If you don't get us, please leave a message. We are probably out fishing and will call you back.
New Mexico Fly Fishing Report & News
Northern New Mexico and southern Colorado fishing report, current local water, weather and fishing conditions along with some general fly fishing news and trout fishing information.
Please scroll down the page to see all of the articles and videos. Good luck fishing!
NM Fishing Report ~ March 1st, 2021
Here at Land of Enchantment Guides we are eagerly looking forward to a great fishing year. Early spring has arrived, the fishing is starting to pick up and many of our rivers and streams are starting to come out of old man winter's freeze. We did get a big snow storm the last week of February with the Santa Fe area receiving a foot of snow in town and much more in the higher elevations. We are creeping towards an average snow pack year in northern New Mexico and southern Colorado, which equates to good water conditions and great fishing year. We have more refreshing news - as of 2/10/21 New Mexico officially lifted its travel quarantine requirement for out of state visitors and on 2/24/21 re-opened the state parks to New Mexico non-residents for the first time in nearly a year (see the article below). Because of the low fishing pressure in the NM State Parks, due to the non-resident restriction, the fishing will be excellent at the San Juan and the Pecos rivers this spring and early summer.
PICTURE ABOVE: Ras checking out a beautiful early season rainbow - Woof!
As always, don't hesitate to contact us for up to date information, if you have any questions and/or would like to book a trip. To learn more about all of the private ranches that we take anglers to, check out our
Private Water
page.
All of the Fishing Report pictures were taken within the last 1 to 6 weeks...
San Juan River:
The San Juan is fishing great right now and should continue to fish well throughout the spring. The "Juan" will start to have some good blue wing olive (BWO) mayfly hatches and, after a winter of eating small micro midges, the fish really put on the feed bag when these larger bugs show up. This hatch usually continues throughout the rest of the spring into early summer. As of this writing, the flows being released out of the Navajo Dam have been holding steadily in the 390± cfs (cubic feet per second) range. This flow level has made the fishing great for both floating and wading. We are doing well fishing the deeper water from the boat and then getting out and wading in the shallower areas - the best of both worlds. Due to Navajo Reservoir beginning to "turn over", the water clarity is a bit low, with the visibility being about 16 to 24 inches. This means that anglers can get away with heavier tippet than usual (4X and 5X shouldn't be an issue) and larger flies and streamers are producing lots of fish.
The fish are hanging in the deeper water early in the day but as the sun gets up overhead and the water in the shallower sections warms, they are moving up into the riffles where there have been some heavy midge and blue wing olive hatches. Black, gray, olive, orange and red midge larva (size 22 to 26) and olive, chocolate and gray blue wing olive mayfly nymphs (size 20 to 24) have been the most productive of the smaller fly patterns. Orange and peach egg patterns and black, olive, white and/or dark gray streamers and leeches are also bringing a lot of fish to the net. This time of year the crowds are gone and you can often not see another angler in many locations. On our last trip we didn't see another boat on the river for the two days we were fishing - amazing to basically have the quality waters section of San Juan River all to ourselves!
UPPER PICTURE: A beautiful day last month on the Lower Flats - absolutely perfect fishing conditions.LOWER PICTURE: There are some really healthy fish on the Juan right now and they are hungry. Well done George K.!
Chama & Lower Brazos Rivers:
The fishing conditions and flows on the Chama River tailwaters have been perfect for the last couple of months. The section of river below Abiquiu Dam is low and clear, currently flowing at 32± cfs. The fishing below Abiquiu Dam has been very good, with lots of recently stocked and holdover rainbows and the odd larger brown trout thrown in for good measure. The section below El Vado on the other had has been her typically fickle, late winter self. We have had some really good days and then a few slow days here - this should change as the coming of spring warms the water up a bit more. Closer to both of these dams there are some really nice rainbows and, in areas that are less pressured, there is still a very good chance of hooking into a really nice size brown trout.
The best rigs for both of these spots have been black or olive leeches; yellow, chartreuse, and orange egg patterns along with red and purple G-string worms. Another good bet is to try a tan or cream mop fly with a small, bright mayfly nymph or midge larva as the dropper fly – this rig has been working especially well below Abiquiu Dam. The real key has been to get the correct depth for the spot you are fishing in.
The upper sections of the Chama and the Brazos rivers still have a lot of ice - think about late March and early April. Once it warms up a little bit more and the ice starts to clear, these locations should be a really great option.
UPPER PICTURE: Guide's day out. Shane with a nice brown below Abiquiu last month.LOWER PICTURE: High sticking a run on the Chama River above Abiquiu.
Rio Grande & Red River:
The trout fishing on the Rio Grande has been consistent throughout this winter and right now there is still a good chance at catching a pike. As with most of our fishing locations this time of year, warmer, sunny days will probably be the most productive. The fishing will only get better as the weather gets warmer into the spring. The flows are jumping around a little bit with the Pilar area flowing at 450± cfs, which is still is a great water level for walk and wade fishing.
The Red River, which is a tributary of the Rio, is still fishing fairly well. The water is currently flowing at 32± cfs, which makes for great fishing conditions. The trout fishing is pretty decent and there are still a few nice cut-bows in the system. If you don't mind a bit of a hike, the Red is a great spot to try. This time of year, smaller nymphs will usually out-fish most larger sized patterns. It is still a good idea to run both though - fishing a large fly as the lead and a smaller fly behind it will help you dial in what the fish are feeding on. Please feel free to give us a call for more information on this fishery.
UPPER PICTURE: A buttery, butter-ball of a brown trout from the Pilar area on the Rio. Good job landing this one Bill S.LOWER PICTURE: Picking through the pocket water on the Red in early February.
Pecos River:
The fishing on the Pecos River is just beginning to pick up a bit. There is still a fair amount of snow and ice up in the higher altitude sections and in some of the canyon stretches but it is very fishable. Though the majority of the fish here aren't that big (usually in the 8 to 12 inch size range), there is a good chance of hooking into a larger rainbow as they move up and down the river staging to spawn. If you see one of these bigger fish, put on some heavier tippet and strip a streamer in front of them – hang on tight if you hook one! Both rainbows and browns are hitting equally well on nymphs and small streamers. The best spots to try will be in the deeper holes in the lower sections of the river and especially in areas that get a good amount of sunlight.
PICTURE: After the snow in late February - the river is starting to open up and beginning to fish well.
The Conejos River & Abeyta Ranch:
The ice on the lower Conejos River and the Abeyta Ranch is still pretty heavy but it appears as though it is getting ready to start breaking up a bit. There is the slight chance for some decent fishing on warm afternoons on the lower river, but you will have to cover some ground to find open spots to fish in. Barring a major cold snap, it should be really, really good by late March/early April. The fish will be aggressive and hungry after the long, cold winter and the bigger rainbow will be on the prowl!
NOTE: The picture at the top of the page with Ras checking out the rainbow was taken on the Conejos in mid-March - Woof!
Bar X Bar Ranch:
With the coming of ice out, fishing the lakes on the Bar X Bar Ranch can be amazing. The bigger trout will be hungry and out cruising around looking for an easy meal. Streamers, wet flies, nymphs and midges will be working well. All five of the ranch's lakes are full of water right now and there are no weeds to contend with. This year should be one of the best early fishing seasons we have ever had out at the ranch. The Bar X Bar Ranch is a great location to fish that is close to Santa Fe, being a little under an hour drive from the Plaza.
The Oso Piccolo Ranches:
As soon as the upper Chama River opens up the La Barranca Ranch will be worth a try. The fishing on the Wolf Creek Ranch is still at least 5 to 6 weeks away - lots of snow up there; yay!
Quinlan Ranch:
The lakes on the Quinlan Ranch are still iced over so there won't be any fishing on the ranch until ice-out occurs, typically by the beginning of April. The ranch got a lot of snow in the last few storms so the lakes should be in great shape this season.
The Quinlan is a great place to base out of to fish Northern New Mexico and Southern Colorado. Please check out the
"Fishing Packages"
page for more information.
Valles Caldera:
We are starting to think about spring fishing at the Valles Caldera. The roads into San Antonio Creek usually don't open until May 14th so, until then, you can only fish the East Fork of the Jemez. The streams on the Caldera should in terrific shape this season - we can't wait to get out there.
The Shahan & MK Ranches:
The Navajo River is still a "no-go" but should be starting to open up soon. By late March into early April is when we often will start fishing these ranches. If you are interested in fishing at either of these spots, we recommend staying in Chama, NM or Pagosa Springs, CO the night before your trip.
High Timber Ranch:
Running through the Brazos meadows, this 5 mile stretch of the upper Brazos River is dry fly heaven. At 10,000 feet in elevation the snow melt takes a while here – June thru early September is the best time to fish the High Timber Ranch. Those that fished the ranch last year had a great time and experience. If you are interested in fishing the High Timber Ranch, we recommend spending the night prior to your trip in Chama. We do offer the option to do an all-inclusive package to spend a few nights at the cabin on the ranch. Please call us for more information.
. . . . . . . . . . . . . . . . . .
Travel Quarantine Removed and State Parks Are Now Open To All
Great news for all of our friends, clients and visitors from out of state. For the last year, anyone coming into New Mexico was supposed to self-quarantine for 14 days. As well, New Mexico State Parks were closed to everyone but New Mexico residents. Last month both of these restrictions were removed!
On February 10th Governor Michelle Lujan Grisham announced that
visitors to the state will no longer be required to self-quarantine
. Now visitors are advised to self-quarantine for 14 days and suggested to obtain a Covid-19 test upon their arrival in New Mexico. As well, depending on the specific county, food and drink establishments can operate at up to 50% indoor capacity and 75% capacity for outdoor dining. Lodging establishments can operate at up to 75% if NM Safe Certified and 40% for those that are not NM Safe Certified. You can read the Governor's full executive order by clicking on the link below:
Governor Michelle Lujan Grisham's Executive Order - 2/10/21
On February 24th the Energy, Minerals and Natural Resources Department's (EMNRD) State Parks Division announced that day-use will reopen for all visitors immediately. Camping will reopen to all visitors, by reservation only, beginning February 27th. What a relief!
Non-residents can now fish in all of the New Mexico State Parks
, i.e. the quality waters on the San Juan River, the Pecos River, the Cimmaron River, etc. Check out the State Park's press release and especially their additional guidance/requirements by clicking the link below:
NM State Parks Open & Additional Guidance - 2/24/21
This a wonderful change of events that was long overdue. We as a business have been greatly hampered by all of the previous restrictions and the State Parks closures. As well we felt that these past edicts, especially the Park's closure to non-residents, were patently unfair and unrealistic. Thank god the powers that be appear to be coming to their senses. Hopefully this will make our visitors from out of state feel a bit more comfortable and welcomed when coming to New Mexico.
. . . . . . . . . . . . . . . . . .
Fly Tyer Magazine Article Profiles Shane Parker-Kast
We are very proud to announce that Shane, one of our guides, has been featured in an article in the most recent issue of Fly Tyer Magazine (Autumn, 2020). Many thanks to Fly Tyer editor David Klausmeyer who wrote the piece. You can read a printout (.pdf) of the article by clicking the link below:
Article on Shane Parker-Kast ~ Fly Tier, Guide & Artist
Fly Tyer is the best publication on the market on all types of fly tying and materials. Though primarily a magazine on all things concerning fly tying, it is an equally good source of many fishing skills and techniques. We highly recommend that you pick up a copy at your local fly shop and/or consider getting a subscription. Check out their website:
www.flytyer.com
. . . . . . . . . . . . . . . . . .
Trout Unlimited Opposes Repeal of Clean Water Rule
The final "repeal" rule leaves important drinking water sources and habitat at dire risk of being unprotected from pollution, and opens the door for the expected "replacement" rule later this year which will be even worse for streams and wetlands.
WASHINGTON D.C. — Trout Unlimited repeated its strong opposition to the final rule being announced by the Environmental Protection Agency and Army Corps of Engineers today that will rollback of protections for millions of miles of streams that provide drinking water for one-in-three Americans and critical water and habitat for fish and wildlife populations.
The final rule, which "repeals" the 2015 Clean Water Rule, making way for the anticipated "replacement" rule, takes another step toward eliminating protection for millions of stream miles and many wetlands, a critical component to functioning watersheds. The replacement rule, is expected to be finalized later in 2019 by the agencies.
The final rule announced today will undermine common sense regulation of a host of development activities, such as pipeline construction that will, over time, degrade hunting and fishing opportunities in every state in the country.
"Today's final rule, in combination with the replacement rule later in the year, could tear the soul out of the Clean Water Act's protection of small streams and wetlands," said Chris Wood, president and CEO of Trout Unlimited. "Headwater streams, especially ephemeral streams, are like the capillaries in our bodies – they're small and easy to overlook, but we wouldn't last long without them. It is a fundamentally flawed final rule."
Polls show Americans overwhelmingly support protections for clean water and the Clean Water Act.
"The Agencies' final rule turns its back on the importance of small headwater streams to healthy waterways and sportfishing recreation," said Steve Moyer, vice president of government affairs for Trout Unlimited. "Sportsmen and women know that we all live downstream. All the benefits of our larger streams, rivers, and bays are dependent on the health of our small streams."
Using the Clean Water Act to protect headwater streams is especially valuable to Trout Unlimited. At a basic level, 59 percent of rivers and stream miles in the lower 48 states are intermittent or ephemeral (i.e., they are small or headwater streams that do not flow year-round). However, in the drier southwest, that figure is higher. In Arizona, 96 percent of the waters are intermittent or ephemeral streams. EPA Region 8, consisting of Colorado, Utah, Wyoming, Montana and the Dakotas, estimates that only 17 percent of the waters in its states flow year-round.
Headwater streams contribute to the drinking water supplies of 117 million Americans, protect communities from flooding, and provide essential fish and wildlife habitat that support a robust outdoor recreation economy worth $887 billion.
"Clean water is not a political issue. It is a basic right of every American," Wood said. "To be effective, the Clean Water Act must be able to control pollution at its source — upstream in the headwaters and wetlands that flow downstream through communities to our major lakes, rivers, and bays. We will work with our allies across the conservation community to compel the agencies to reverse course on their flawed rule."
FREQUENTLY ASKED QUESTIONS:
How Did We Get Here?
When the Clean Water Act was passed in 1972, it protected virtually all of America's waters–every type of stream, wetland, river, lake or bay. A 2001 Supreme Court decision first questioned if all wetlands and streams should in fact be protected–and the issue has become ever-more politicized since then. In 2015, under President Obama, the EPA finalized a rule (the Clean Water Rule) clarifying that the Clean Water Act protects all of our nation's streams and millions of acres of wetlands. The rule gained strong support from sportsmen, scientists and the public, but it was opposed by a powerful coalition of agriculture and development interests
What's happening now?
Early in 2017, President Trump directed the EPA to first repeal and then replace the Clean Water Rule. The Administration's efforts to rescind the 2015 Rule have been partially blocked, as the 2015 Rule is in effect in 22 states. The new rule, unveiled today, is an unwarranted effort to replace the 2015 Rule. The new rule is NOT based in science and is NOT consistent with the goals of the Clean Water Act. The new rule proposal will undermine long standing protections for wetlands and small streams, it will harm hunting and fishing in America. However, it is not the final chapter to the story. We expect the Administration and the agencies to unveil a replacement for the 2015 Rule which may well be a true gutting of the Clean Water Act, leaving millions of stream miles and millions of acres of wetlands permanently unprotected. We expect the replacement final rule later this year.
Why should sportsmen care?
The Clean Water Act and the 2015 Rule are vital to TU's work and to anglers across the nation. Whether TU is working with farmers to restore small headwater streams in West Virginia, removing acidic pollution caused by abandoned mines in Pennsylvania, or protecting the world-famous salmon-producing, 14,000-jobs-sustaining watershed of Bristol Bay, Alaska, we rely on the Clean Water Act to safeguard our water quality improvements. TU members, and sportsmen and women nationwide, want to move forward with progress on cleaning up our nation's waters, not go backwards. Thus, the Clean Water Act needs to be improved, not weakened, as is the case in today's announcement.
To learn more please click on the link below. Hopefully we can stop this craziness - call your representatives and let them know how you feel.
Millions of stream miles risk losing protection...
. . . . . . . . . . . . . . . . . .
Fly Tyer Magazine Article about Land of Enchantment Guides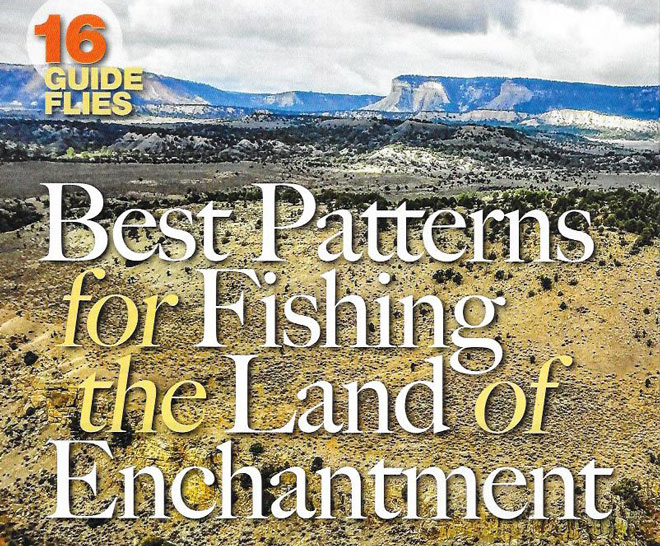 The Autumn, 2017 issue of Fly Tyer Magazine did an article on Land of Enchantment Guides featuring 16 of the custom fly patterns that Shane, Jesse and Noah tie. Many thanks to Fly Tyer editor David Klausmeyer for thinking enough of us to do the article - we are very flattered. You can read a printout (.pdf) of the article by clicking the link below:
Article on Land of Enchantment Guides
Fly Tyer is the best publication on the market on all types of fly tying and materials. Though primarily a magazine on all things concerning fly tying, it is an equally good source of many fishing skills and techniques. We highly recommend that you pick up a copy at your local fly shop and/or consider getting a subscription. Check out their website:
www.flytyer.com
. . . . . . . . . . . . . . . . . .
Hank Patterson Explains Trout Unlimited (TU)
Hank Patterson shares his understanding of Trout Unlimited and the importance of membership with a couple new clients. What hoot! Are you a TU member?