For more information
or to Book a Trip call:
(505) 629-5688

If you don't get us, please leave a message. We are probably out fishing and will call you back.
Fly Fishing Report & News
Northern New Mexico and southern Colorado fishing report, current local water, weather and fishing conditions along with some general fly fishing news and trout fishing information.
Please scroll down the page to see all of the articles and videos. Good luck fishing!
Fishing Report ~ September 20th, 2022
We have had a very wet summer and early fall here in northern New Mexico which has helped to set up for phenomenal fishing for the remainder of the year. As the weather begins to cool, look for fish to begin to get more aggressive as they pack on weight for the winter. One bit of great news is that the Pecos River has just been reopened by NM State Parks and the Santa Fe National Forest. Since this area has opened up, the fishing has been very good and it appears that there was only a minimal "fish kill" from the ash and run-off from the Calf Canyon/Hermit's Peak fire - thank god for small miracles.
The video is of a monster Pecos River rainbow Rishi S. landed last week with the help of his guide Shane - WOW!
As always, don't hesitate to call us for up to date information, if you have any questions and/or would like to book a trip. Even better, stop by our new fly shop, The Fly Fishing Outpost, we just opened in Santa Fe. We have all the fly patterns and gear you will need for a successful fishing trip in our area (See the article below for more information and directions).
All of the Fishing Report pictures were taken within the last 6 to 8 weeks...
Chama River & Alpine Tributaries:
The lower Chama has been hit or miss depending on which sections of the river we have been fishing. The section below Abiquiu Dam fished quite well earlier this spring, until the releases out of the dam were increased. As of late the flows have been coming back down and they are currently at 87 cfs (cubic feet per second) which is a perfect level for fishing at this location. As we move further into the fall and winter season, the fishing will get much better below Abiquiu Dam. There are some reall good size brown trout here!
Fishing below El Vado Dam is entirely dependent on flow levels. During the summer and early fall, the B.O.R. increases the dam release up to about 600 cfs on the weekend for rafters and lowers the flows during the week for fishermen. However, since September 1st, the flows have stayed at or slightly above 600 cfs, possibly due to the rains we've been getting. Wading in the higher flows can be a bit dicey, so stay aware of the current conditions. If you are going to fish in the El Vado section; we would suggest using brightly colored nymph patterns, mop flies,
squirmy-wormies
and stoneflies. Stripping bigger streamers and buggers is also a good bet in the slower water. Depending on the releases from the dam and the water levels, you will have to adjust your weights and fly depths accordingly.
The upper free stone section of the Chama has been epic all summer long. Terrestrial and caddis patterns have been very productive in this stretch. Dry dropper rigs will continue to pick up fish well until the first major frost of the year, typically in mid-October. As we move into the fall season please remember to respect spawning fish and don't walk on the redds/spawning beds!
The lower section of the Brazos River has fished quite well all summer, and should continue to so until at least early November. Throughout the summer, we have brought numerous above average browns to the net, while still catching a lot of smaller rainbows as well. A hopper-dropper rig with a smaller mayfly nymph has been the most productive rig set-up. The water is getting pretty clear and low so lighter tippet in the 5X to 6X range has been necessary.
UPPER PICTURE: Beautiful freestone Chama brown landed by Robert L. last month - very nicely done sir!.
MIDDLE PICTURE: The browns have been plentiful and willing participants in the Chama this late summer.LOWER PICTURE: Brown-gold-butter from the lower Brazos last week; landed by Susan R.
Canones Creek Ranch
The fishing at the Canones Creek Ranch has been phenomenal all summer. We have had many exceptional days here this year with multiple fish in the 20"+ range. Right now we are fishing primarily indicator rigs earlier in the day, and switching to dry-dropper rigs in the afternoons. A stimulator or small hopper pattern with a small mayfly nymph dropped underneath can be lethal. As with most spots on the Chama River, we have pulled some really large fish from the deeper holes on the Canones Creek Ranch by stripping streamers. The fall season is set up to be epic on this stretch of the Chama River.
The Canones Creek Ranch offers 1½ miles of the Chama River just upstream from the La Barranca Ranch. With excellent stream improvements, beautiful scenery and easy access, the Canones Creek Ranch is an absolute gem. To learn more about the Canones Creek Ranch or any of the other private water we guide on, go to this page of our website:
Private Water
UPPER PICTURE: Kurt W. giving a two thumbs up to this big Canones "football" of a rainbow he landed - Score!
LOWER PICTURE: Not to be outdone, Brenda W. landed a bunch of nice ones too. Great job fighting this one!.
The San Juan River:
The last two months have been pretty good on the San Juan River. As crowded as it can get, the fishing has still been productive and will only get better as the weather cools and the summer crowds diminish. With all of the rain that northern New Mexico has received this summer, the Navajo Dam has been increasing their releases since about September 1st. They have been dropped a bit over the last few days and currently the San Juan is flowing about 650 cfs below Navajo Dam. We do expect the flows to start to come down to more "normal" fall releases as we get deeper into season.
Even with higher flows, the San Juan has remained relatively clear. Small flies in the #24 to #28 range paired with 6X tippet have proven very effective. Small pheasant tail nymphs, baetis patterns and RS2's are also working well in the afternoons. As we get into October, don't be afraid to try some egg patterns below a pine squirrel leech or a
Wolf Eagle
. The fall season can also be a great time to target larger fish stripping big streamer patterns through the deeper runs and holes.
UPPER PICTURE: Just before the afternoon deluge, this beautiful brown ate a midge cluster on top for Bill M. - yea buddy!
LOWER PICTURE: Guide Shane showing of a nice rainbow the Robert M. landed on a size 26 dry. Good job esquire.
The Conejos River:
Water flows on the Conejos River have spiked a fair number of times over the last few months due to the monsoon rains; currently the flows are around 116 cfs and seem to be slowly trending downward. We have had some excellent days fishing all types of dry flies for the last couple of months but when the water is higher and off-color, nymph rigs have been the most productive method. As the water levels drop as we get further into the fall, the fish here can be very spooky and tougher to catch, so some stealth and lighter tippets become more important. Keep your eyes open for risers and light hatches as fish will still target top-water caddis and smaller mayflies when available. As always, if you plan on fishing the Conejos River in the fall, please be mindful of redds and respect spawning fish. This is one of the best brown trout fisheries in our area, let's keep it that way.
PICTURE: Rachael G. and her guide Matt are all smiles over this awesome Conejos River brown (caught on a dry fly no less).
The Pecos River:
The Pecos River is open! After the fires that we had all spring, followed by the heavy rains, run-off and associated flooding, the Pecos River is finally open to the public. Some areas do remain closed due to damage, so check the most recent regulations before you head into the canyon. River flows have been high all summer and are starting to come back down to more normal levels. Current flows are at 62 cfs and leveling out. There was a small fish-kill on the Pecos associated with the ash run-off. That said, the Pecos has been fishing very well for the last couple of weeks since it was reopened. Nymph rigs are the best option here, with
Soft Hackle Tactical Hare's Ears
being a great go to attractor nymph. We have also landed some amazing fish in some of the deeper pools by fishing smaller buggers, worms and egg patterns. On days when the water has been clearer, there has been some decent dry fly action with smaller
Peacock PMX
patterns producing lots of strikes.
PICTURE: So you think there are only smaller fish in the Pecos? Tell that to Rishi S. - dang homie!
The Valles Caldera & Jemez Area Streams:
The Valles Caldera has been fishing very well this season and, as usual, smaller terrestrial and standard dry fly patterns have been the best option. When fishing terrestrials on the surface, don't be afraid to "plop" your fly hard on the surface, as the splash can bring bigger fish out from under the banks. Dry dropper and nymph rigs have been productive on streams in the Jemez area. Expect these trends to continue until the water temps cool substantially. As we move into the fall dry flies will still be productive but shallow nymph rigs fished under a smaller indicator will become a great option. As always, if you see a hatch and/or rising, don't be afraid to tie on a dry and see if you can get a fish to take it.
PICTURE: George L. casting hoppers to the banks. San Antonio Creek on a late August afternoon.
The Shahan & MK Ranches:
The action recently has been really good on the ranches we fish on the Navajo River and we are continually impressed at the quality of fish that hold in this smaller river. The
Warden's Worry
has been the most productive fly throughout this summer, either fished below an indicator or in a dry-dropper rig (the Warden's Worry works well as sub-surface, generic caddis pattern). There have also been a few stoneflies here and we even saw a few the odd salmon flies this year, back in early summer. Our guides did a lot of work to clean up the over-hanging brush and trees at the Shahan Ranch which helped to open up most of the river. Expect fishing on the MK and Shahan ranches to keep fishing well throughout the fall.
PICTURE: Dry-dropper rigs and wet wading in early September on the MK Ranch. Well done Tim D.
The Bar X Bar Ranch:
TThe Bar X Bar Ranch has fished terrifically, every day, summer long. Dry dropper rigs have been the meal ticket, with leech patterns picking up several true trophy-size fish. As we progress into the fall, this fishery will continue produce well into mid-November. As the water temperatures drop, we are using more indicator rigs with nymphs and chironomids along with slow stripping streamers. This is not to say we won't still fish dry flies - on warmer, sunny afternoons during the fall, the fish are still looking up and feeding on the surface. Located less than an hour drive from the Santa Fe Plaza, the Bar X Bar Ranch is the best private fishery close to Santa Fe.
PICTURE: What an amazing dry fly take on the long lake at the Bar X Bar and what a great hookset made by Steve T. - well done!
Corkin's Lodge:
The upper Brazos River has been fishing really well from just after run-off throughout the whole summer. This stretch of the Brazos is a dry fly fisherman's paradise. It offers great pocket water, deep pools, incomparable views and lots of hungry, wild trout. For the last couple of weeks we have started to fish more dry-dropper rigs and, with the cooling temperatures, we may begin to keep a straight indicator rig at the ready. As with the lower sections of the Brazos, the water is getting pretty clear and low so lighter tippet in the 5X to 6X range has been necessary.
Corkin's Lodge is one of the most beautiful places to stay while fishing the Chama area. A collection of 10 well outfitted individual cabins nestled under the 1,000 foot Brazos cliffs; you just can't beat this spot for a great base to fish from while in the Chama area. Look at staying at Corkin's Lodge next time you're planning a trip to northern New Mexico - check them out at:
Corkins Lodge
PICTURE: One of the most beautiful Rocky Mountain fishing spots there is...
The Rio Grande & The Red River:
The Rio Grande this summer has been consistently high and off color due to all of the rain. Over the last couple of weeks the water temperatures have started to cool and the flows have dropped (currently they are 316 cfs) and fall fishing has begun to really take off. Heavy nymph rigs have been productive and will continue to entice fish through the fall and into the winter. Crane fly larvae, sparkle worms,
20 Incher Stoneflies
and other large attractor nymphs will all be productive. We are still seeing a fair number of rising fish so don't be afraid to try casting smaller mayfly and/or caddis dry fly patterns to them. As with most of our larger rivers, the fall on the Rio Grande is a great time to fish streamers for bigger fish. As well, it is getting close to pike season on the Rio - we'll keep you posted.
Flows on the Red River are currently at about 40 cfs which is a great water level to fish on this river, especially down closer to the confluence with the Rio Grande. In the summer we had great success fishing single dry flies here; mostly smaller terrestrials and elk hair caddis patterns. When the water levels have been up, we have had good luck swinging small woolly buggers in the deeper pools. Expect decent fishing on the Red River through the fall and into the winter - cut-bows starting in December?
The Oso Piccolo Ranches:
The rains that we have had this summer really helped to keep the La Barranca and Wolf Creek Ranches in great shape. As we move deeper into the fall season it should be prime time for big browns! Water levels on the Chama River are perfect, setting up for an epic fall season! We are continuing to look for hatches and rising fish as this freestone section of the Chama can offer productive dry fly fishing well into the fall. As the terrestrials start to wane and the water temps drop, we start to fish larger nymph rigs, Warden's Worries and smaller streamers, typically in the deeper holes. An egg pattern is always a good bet for this area in October and November.
Comprised of two sections of water on two separate rivers, the Oso Piccolo ranches offer anglers the opportunity to fish on both of these completely different fishing locations in one day. The first ranch, known as La Barranca, has 1.5 to 2 miles of the upper Chama River and the second ranch (the Wolf Creek Ranch) has 3 miles of a gorgeous, high mountain tributary of the Chama called Wolf Creek.
The Quinlan Ranch:
This summer the Quinlan Ranch lakes have been hit or miss; they were quite good early but as the water warmed up into July the fishing slowed down a bit. Damsel fly dries were the hot fly early on and more recently we have had the most success with indicator rigs and streamers. As it begins to cool off, we will be looking for the bigger fish to start cruising the banks. All sizes of leech patterns and larger streamers should be effective throughout the fall until the winter season really cools things off. All of the boats are in the water - there are five ClackaCraft drift boats spread out between the five lakes we fish on the ranch. There is very limited availability this time of year with our all-inclusive fishing packages at the Quinlan Ranch as elk season is now in full swing.
The Quinlan is a great place to base out of to fish northern New Mexico and southern Colorado. Please check out the
"Fishing Packages"
page for more information.
. . . . . . . . . . . . . . . . . .
The Fires Are Out!
July 15th, 2022
- Over the last few weeks we have had may people call us to ask the status of the wildfires that have burned here in northern New Mexico – we are elated to report that, for all intents and purposes, both of the fires which were affecting our area are almost completely extinguished and out. For the last 2 to 3 weeks, we have had some amazing rains which have helped to end the fires and given a great boost to the water levels in our rivers, streams and lakes. We haven't had any issues with smoke for at least 3 weeks and most of the National Forests, NM State Parks and the Valles Caldera National Preserve (which had been completely closed due to the fires) have been reopened.
The only areas that are still closed to public access and entry are the Pecos-Las Vegas District of the Santa Fe National Forest and the Pecos Canyon NM State Park. This means that the only fishing location that we are still unable to go to is the Pecos River and its drainages. These areas are still closed due to risks of flooding from heavy rains in the burn scar of the Calf Canyon/Hermit's Peak fire. Hopefully this area will be reopened within the next few weeks.
The Cero Pelado fire, which was in the Jemez area directly along the southern border of the Valles Caldera, is now listed as "98% contained" and almost all of this area is completely open to the public and for us to fish in. The only portion of this location that remains closed is directly in the burn scar which doesn't affect any of the fishing areas. The cause of the Cero Pelado fire is still listed as "unknown" and this fire burned a total of 45,605 acres.
The Calf Canyon/Hermit's Peak fire, which was on the east side of the mountains due east of Santa Fe is currently listed as "93% contained" even though local reports indicate that it is at almost 100% containment. This 341,735 acre fire was the result of two prescribed fires by the Santa Fe National Forest that escaped control. One was a broadcast burn that crossed control lines during a strong wind. The other originated from slash piles that were ignited in late January that continued burning for months. In mid-April one or more of the piles became very active and began spreading and merged with the other escaped fire on April 22.
These fires (especially Calf Canyon/Hermit's Peak fire) have devastated many communities here in northern New Mexico. Close to 16,000 people had to evacuate their homes and there have been over 900 houses and structures lost and the devastation isn't over yet. If you would like to help by making a donation to the victims of these fires, you can do so at either of the links below - the folks who have been affected could sure use a helping hand.
Red Cross Donations to NM Fire Victims
Santa Fe Food Depot Donations for NM Fire Victims
. . . . . . . . . . . . . . . . . .
We've Opened a Fly Shop!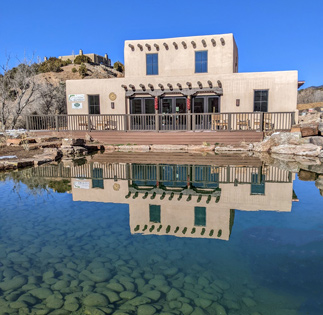 We would like to let everyone know that our new fly shop, called The Fly Fishing Outpost, is now officially open. Located at Bishop's Lodge in Santa Fe (1297 Bishop's Lodge Road), it is an amazing spot right on the bottom pool of a stream - you can try out a new fly rod on the water.
We have lots of great gear, flies, rods & reels, clothing, New Mexico fishing and hunting licenses and much more...
Please come by and say hi and check it out. Our hours are 9 to 5, every day. We'll be looking forward to seeing you!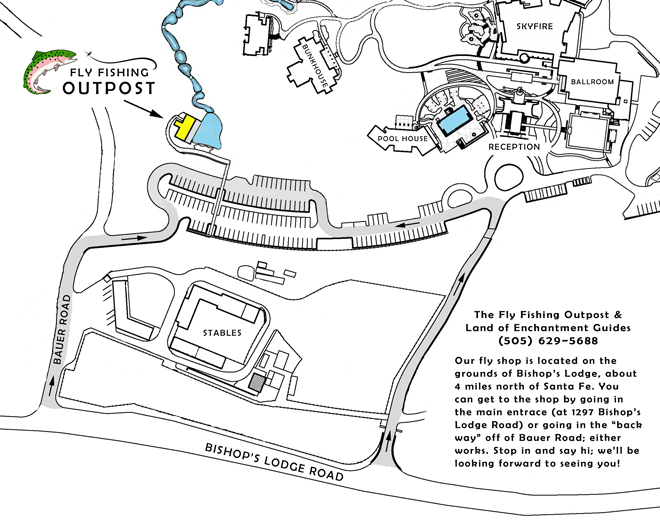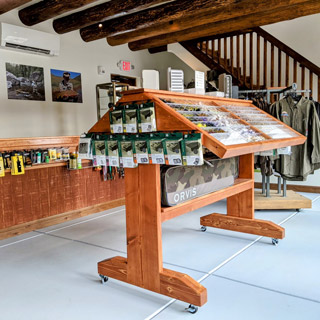 &nbsp&nbsp&nbsp&nbsp&nbsp&nbsp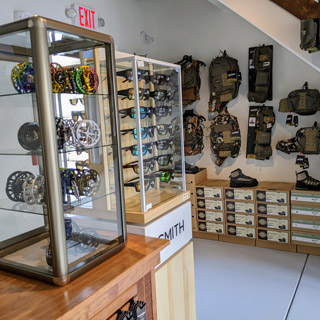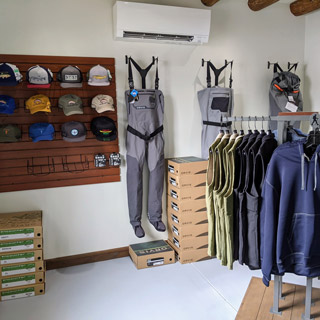 &nbsp&nbsp&nbsp&nbsp&nbsp&nbsp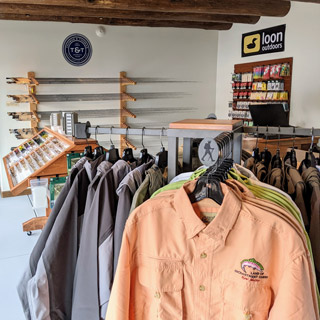 . . . . . . . . . . . . . . . . . .
Fly Tyer Magazine Article Profiles Shane Parker-Kast
We are very proud to announce that Shane, one of our guides, has been featured in an article in the most recent issue of Fly Tyer Magazine (Autumn, 2020). Many thanks to Fly Tyer editor David Klausmeyer who wrote the piece. You can read a printout (.pdf) of the article by clicking the link below:
Article on Shane Parker-Kast ~ Fly Tier, Guide & Artist
Fly Tyer is the best publication on the market on all types of fly tying and materials. Though primarily a magazine on all things concerning fly tying, it is an equally good source of many fishing skills and techniques. We highly recommend that you pick up a copy at your local fly shop and/or consider getting a subscription. Check out their website:
www.flytyer.com
. . . . . . . . . . . . . . . . . .
Fly Tyer Magazine Article about Land of Enchantment Guides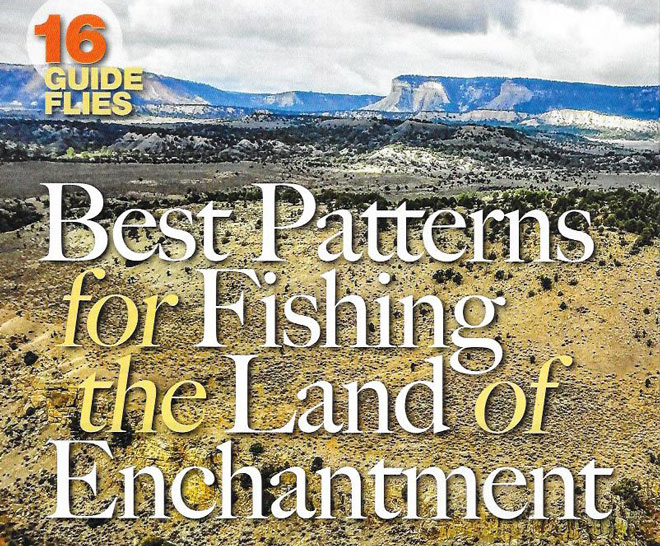 The Autumn, 2017 issue of Fly Tyer Magazine did an article on Land of Enchantment Guides featuring 16 of the custom fly patterns that Shane, Jesse and Noah tie. Many thanks to Fly Tyer editor David Klausmeyer for thinking enough of us to do the article - we are very flattered. You can read a printout (.pdf) of the article by clicking the link below:
Article on Land of Enchantment Guides
Fly Tyer is the best publication on the market on all types of fly tying and materials. Though primarily a magazine on all things concerning fly tying, it is an equally good source of many fishing skills and techniques. We highly recommend that you pick up a copy at your local fly shop and/or consider getting a subscription. Check out their website:
www.flytyer.com
. . . . . . . . . . . . . . . . . .
Hank Patterson Explains Trout Unlimited (TU)
Hank Patterson shares his understanding of Trout Unlimited and the importance of membership with a couple new clients. What hoot! Are you a TU member?