For more information
or to Book a Trip call!
(505) 629-5688
or
(505) 927-5356

If you don't get us, please leave a message. We are probably out fishing and will call you back.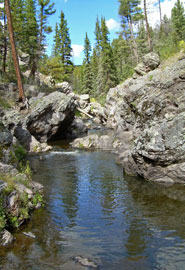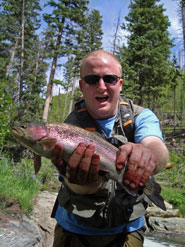 Book A Guided Fly Fishing Trip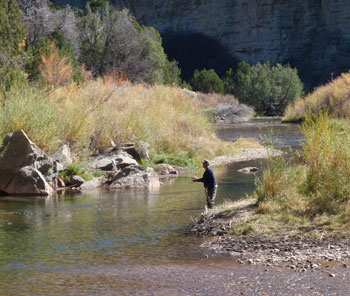 We do all of our trip bookings and reservations over the phone so please feel free to call us at any time.
If you get an answering machine, we're probably out fishing. Please leave a message with your name, phone number and the best time we can contact you - we will call you back as soon as possible.
After You Book a Trip...
You
must
have a fishing license to fish at any of the locations where we go. You can buy your license at many locations (fly shops; sporting goods stores; Walmart; etc.) or online through one of the links below. If you don't know the area, we can recommend locations where you can purchase fishing licenses over the counter. Depending on which waters you are going to be fishing on your trip, it may be possible to buy a license on the way to the river. Make sure to let your guide know if you were unable to buy your fishing license before the day of your trip.
New Mexico Fishing Licenses ~ Online:
If you are fishing in New Mexico, you will need a valid State of New Mexico fishing license for the day/days you have booked your trip. You can get your license online, by clicking on the link below:
NM Department of Game & Fish - Online Licensing System
Note: You will need have both the Habitat Stamp and the Habitat Management and Access Validation for your New Mexico Fishing License.
Colorado Fishing Licenses ~ Online:
If you are going on a fishing trip in Colorado (i.e. on the Abeyta Ranch or the MK Ranch), you will need a valid State of Colorado fishing license for the day/days you have booked a trip. You can get a Colorado fishing license online, by clicking on the link below:
Colorado Division of Wildlife's Total Licensing System
Note: If you are ordering your Colorado fishing license online less than 14 days from the day of your fishing trip, you
must print out your receipt
as proof of purchase and bring it with you, in lieu of the license (which will be mailed to you).
What To Discuss With Your Guide:
At the beginning of your trip, there are a few things you should make sure your guide knows about. The better informed your guide is - the better your day will be. You should let your guide know what your experience and fitness levels are and if you have any special requests. This will enable your guide to better tailor your trip to be a perfect fit for you.
Tip/Gratuity For Your Guide:
If you have a good day and your guide met your expectations, it is the standard custom to take care of them with a tip. They will really appreciate it! (see question 4 on the
FAQ's
page for more details).
What To Bring With You:
There are a few personal items which we strongly recommend you consider bringing on either a fishing trip or a hike. They are important and will make your trip much more comfortable and enjoyable. Below is a checklist of some items for you to think about bringing with you:
• Fishing license
• Polarized sunglasses
• Sunscreen
• Rain jacket
• Sweatshirt
• Extra socks
• Hat/Visor
• Camera
• Change of clothes
• Small Backpack (if you don't have one, your guide will provide it)
• Check with guide for weather conditions and appropriate dress for trip
For More Detailed Information:
If you need more information or have any questions, please don't hesitate to call us. You also might want to look over our
FAQ's
page. We have done our best to answer many of the more common inquiries we get. Have fun and a great fly fishing trip!